If you are looking for the best content planner tool then you are in the right place. In this blog, we will discuss the 13 best content planners that people are using in 2023.
As marketers, we all know how crucial it is to have a content marketing strategy in place and execute it consistently. As the old saying goes, content is king, which remains valid today. Whether you're a seasoned content creator or just starting out in the world of brand building, having a reliable content planner is essential to helping you meet your content goals.
With an efficient planning system, you can avoid falling behind schedule, disjointed content pieces, and, ultimately, a reduced impact on your targeted audience.
But with so many content planners available on the market, how do you choose the perfect one that fits your individual or team needs?
Fret not!
We have done the hard work for you and compiled a list of the 13 best content planners to keep you organised, streamline your project management, and, most importantly, help you conquer those marketing goals. So grab your notepad, digital or analogue, and let's dive in!
Why Content Planning is Crucial for Content Marketing Success
Content planning is crucial to content marketing success, as it helps businesses create and share consistent and valuable content with their target audience. With a well-structured content plan, brands can effectively allocate resources, set goals, and measure results. Additionally, content planning ensures businesses stay focused on their marketing objectives and maintain a consistent tone and message across different platforms.
By investing in content planning tools, businesses can streamline their content creation process, resulting in improved engagement, brand visibility, and ultimately increased sales and customer loyalty.
What is a Content Planner, and How Can It Benefit You?
A content planner is essential for content marketing success, as it helps plan and organise content for the upcoming months or even a year. These planners offer features such as automated scheduling and publishing, allowing content creators to focus on generating high-quality content while ensuring that it is published consistently.
Moreover, content planning tools can track progress and provide analytics to fine-tune your marketing strategies. By using a content planner, businesses can improve user engagement, enhance efficiency, and ultimately elevate their marketing effectiveness.
ContentStudio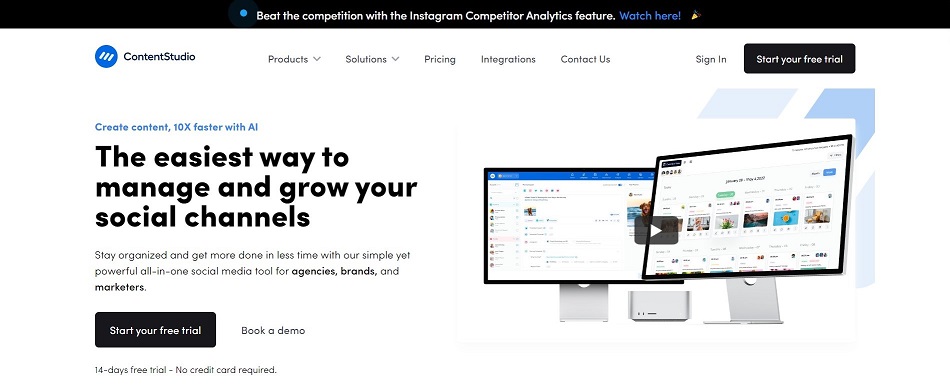 ContentStudio is a versatile and comprehensive tool for content planning and management. This all-in-one platform allows users to connect various social media accounts, curate posts from diverse sources, and identify top trending topics with AI support.
With features like Composer, integrations with Canva, and team collaboration capabilities, ContentStudio streamlines content creation while ensuring alignment with marketing goals. Incorporating automation recipes for content creation, distribution, and follow-ups further facilitates a smooth content marketing journey.
Invest in ContentStudio for a holistic approach to efficient, high-quality content planning and execution.
SurferSEO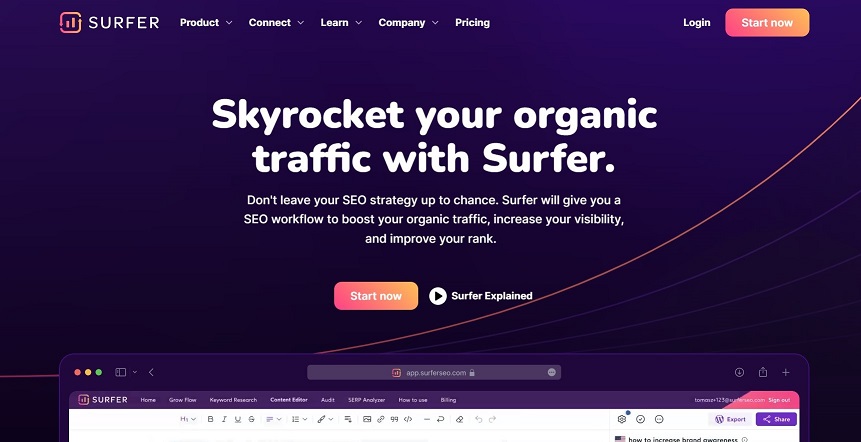 SurferSEO is a powerful content planning tool designed to help you create well-optimised content ready to rank on search engines. This versatile platform simplifies the processes of researching, writing, and optimising by offering features that save you time and improve the overall quality of your content.
With a user-friendly interface and accessible data insights, the SurferSEO tool can become essential to your content marketing strategy.
This tool is ideal for both beginners and seasoned content creators alike, enabling them to understand their target audience better and create content that resonates.
Canva
Canva has emerged as a popular content-planning tool for individuals and businesses alike. Its user-friendly interface and wide range of design templates make it easy for even novice designers to create stunning graphics for blogs, social media posts, presentations, and more.
Canva's free version offers various features, but upgrading to Canva Pro unlocks additional benefits, such as access to premium images, multiple folder organisation, and the Canva Content Scheduler and Planner.
This latest addition allows users to schedule their graphics and posts, streamlining the content planning process all within one platform.
Trello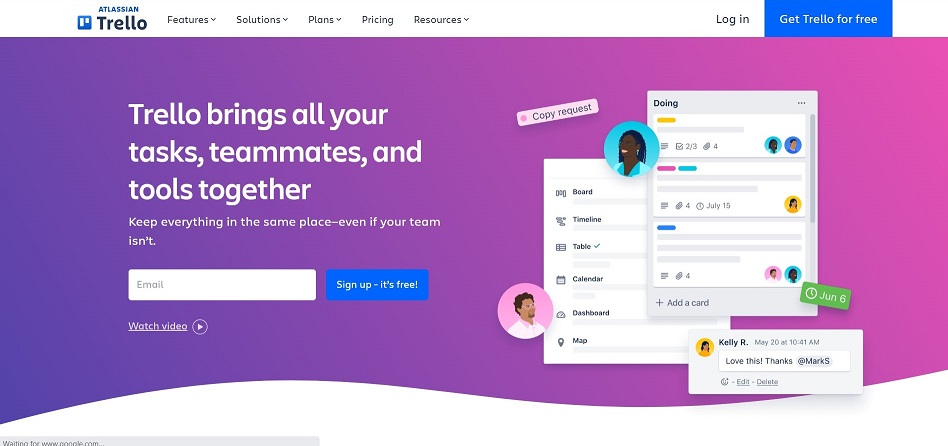 Trello is a versatile project management tool that benefits content marketers and teams greatly. With its simple yet powerful features, Trello helps users create and organise tasks, ideas, and deadlines on boards, lists, and cards.
This visual approach to content planning ensures everyone stays updated on project progress, making workflow seamless and collaboration efficient.
The platform offers customization options, allowing teams to set up and tailor workflows to their needs. Additionally, Trello integrates with various apps, giving content marketers a convenient and comprehensive space for managing content planning and execution.
Adobe Express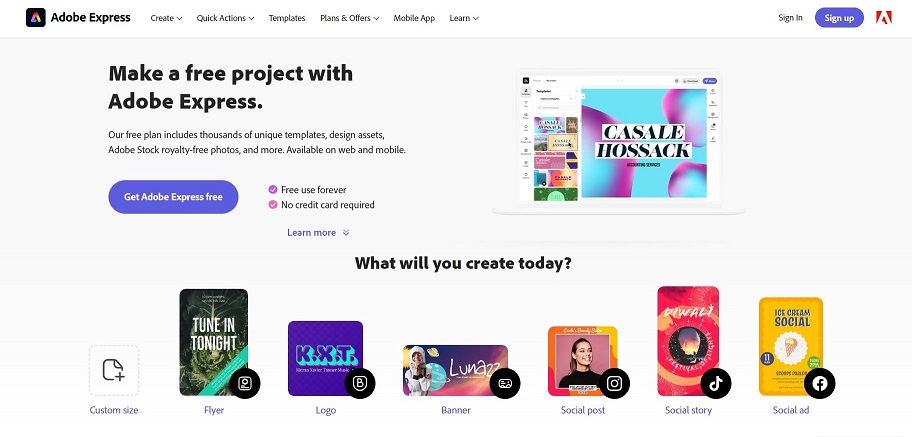 Adobe Express is an excellent content planning tool, especially for those who prioritise visual content. This powerful platform allows users to design and create eye-catching images and graphics that can boost their content marketing strategy.
With an intuitive interface and a wide range of customizable templates, Adobe Express makes it easy for users with varying design expertise to create stunning visuals.
This versatile tool helps improve your content's aesthetics and enables efficient organisation and scheduling. With Adobe Express, users can bring their content marketing vision to life, enhancing user engagement and driving marketing success.
Asana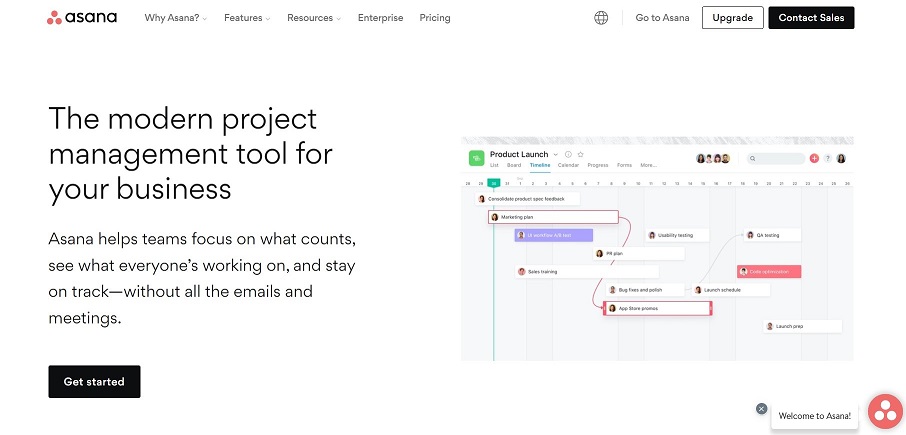 Asana is an excellent content planner that helps teams coordinate tasks, manage projects, and meet deadlines effectively. This versatile tool allows users to create project plans, schedule tasks, and track progress in real-time.
Its visual features, such as Gantt charts and Kanban boards, make it easy to keep everyone in the loop and prioritise work.
Moreover, with Asana, you can streamline processes, improve team collaboration, and even automate tasks for increased efficiency.
Its seamless integration with various apps further enhances its usefulness, making it a top choice for content planning and management.
Hootsuite
Hootsuite is a popular content planning tool catering to individuals and businesses. This comprehensive platform offers many features to help you manage your social media presence.
With Hootsuite, you can connect multiple social media accounts, schedule posts, monitor engagement, and analyse performance. The user-friendly dashboard lets you keep track of your content calendar and collaborate seamlessly with team members.
Opt for Hootsuite if you're looking for an all-in-one solution to streamline your content planning process and boost your social media productivity.
Loomly
Loomly is an excellent content planning tool designed to help marketers and teams easily create, schedule, and track social media posts. This platform helps streamline your content marketing strategy and ensures consistency across various channels. With Loomly, you can collaborate with your team members, manage approval workflows, and gain valuable insights into the performance of your content.
Another advantage of using Loomly is its built-in content ideas and suggestions feature, which helps keep your content fresh and engaging. This user-friendly tool is perfect for small businesses and large enterprises looking to improve their content marketing effectiveness and stay ahead in the competitive digital landscape.
SocialPilot
SocialPilot is a highly recommended content planner for those seeking an easy-to-use and comprehensive platform for planning and posting their content. Its robust features give users a bird's-eye view of their entire social media plan. At the same time, the filtering options enable them to dig deeper into account-specific or group-specific scheduled content.
Rescheduling posts is a breeze with SocialPilot, as users can simply drag and drop their posts to desired dates or times on the editorial calendar without any manual data input. The platform also offers content-sharing options and the convenience of linking blog feeds to share posts on social media accounts automatically.
Meet Edgar.
Meet Edgar is a powerful social media management tool designed for entrepreneurs and businesses of all sizes. This innovative platform streamlines creating, scheduling, and sharing content across various social media channels. With its bottomless content library and automatic reposting of evergreen content, you'll always have fresh material for your followers.
Users can also monitor performance metrics in real-time and conduct A/B testing to determine what resonates best with their audience. By consistently engaging your audience with curated content, Meet Edgar can help drive new followers, leads, and sales for your business. Give it a try and see how it can transform your social media strategy.
SproutSocial
SproutSocial is a comprehensive social media management platform that offers a 30-day social media plan template designed to help users reinvent their social marketing strategy.
This template serves as a blueprint to guide businesses through setting realistic goals, integrating emerging trends, and creating high-quality content for their target audience.
This plan allows users to diversify their content and determine the business value driven by their social media efforts.
Furthermore, SproutSocial provides support in measuring the success of social marketing initiatives, ensuring businesses stay on track to achieve their goals. Overall, this platform is an invaluable tool for crafting a consistent and effective social media strategy.
Evernote
Evernote is a popular note-taking app that allows users to keep their ideas, tasks, and schedules organised in one place. With automatic syncing across all devices, this app ensures that important information is always at your fingertips. Evernote's flexible search capabilities make it easy to find notes when needed, and its task management features help keep track of deadlines and reminders.
Additionally, Evernote supports multimedia notes, allowing users to add images, audio, scans, PDFs, and documents to their notes. This versatile app is a great addition to any content planner's toolkit, helping to keep projects Evernote is a versatile note-taking app that can greatly assist content marketers in organising their notes, tasks, and schedules all in one place.
With Evernote, users can add text, images, audio, scans, PDFs, and other documents to their notes, which sync automatically across all connected devices.
This powerful tool also offers flexible search capabilities, making it easy to find vital information quickly. Regarding content planning, Evernote provides a simple way to create, assign, and track tasks with due dates, flags, and reminders. Opt for a premium version to unlock even more features like offline access, increased storage, and integration with other productivity apps.
Google Calendar
Google Calendar is a fantastic tool for organising and managing your content planning goals. With its user-friendly interface, you can easily schedule, organise, and track all aspects of your content planning strategy.
The calendar allows you to set reminders and deadlines and collaborate with team members to ensure your content meets its targets. Integrating Google Calendar with other tools, such as content management systems and social media platforms, allows seamless content planning across various channels.
By utilising Google Calendar, you'll create a more effective content planning strategy while staying organised and on top of your goals.
Conclusion
As explored in this article, several top content planning tools will be available in 2023. Each tool offers unique features and capabilities that cater to different business needs and preferences. When choosing a content planner, it's essential to consider factors such as ease of use, integration options, analytics capabilities, and scalability.
Furthermore, integrating content planning with SEO is crucial for maximising organic visibility and driving targeted traffic to your website. Businesses can enhance their online presence and improve their search engine rankings by conducting keyword research, optimising content for relevant keywords, and tracking SEO performance.
However, it's important to acknowledge the challenges of content planning, such as content overload, resource constraints, and evolving consumer preferences. Overcoming these challenges requires adaptability, creativity, and a data-driven approach to content planning.
The future of content planning in 2023 and beyond will likely involve further advancements in artificial intelligence and automation. Content planners will continue to evolve to meet the changing needs of businesses, providing more robust features for content ideation, curation, and distribution.
Investing in a reliable and effective content planner is crucial for businesses and marketers in 2023. By leveraging the power of content planning, businesses can create engaging and impactful content that resonates with their target audience, drives organic traffic, and ultimately helps achieve their marketing goals.