Writing blog posts without Blog Headline Analyzer Tools is not the best practice as many new bloggers do. In this post, we will discuss why you need to use Free Blog Headline Analyzer Tools and we share some of the best tools that work for you.
If you are not writing SEO-friendly blog titles or headlines then your blog will face low traffic. Most of the time newbie bloggers don't know the proper Headline writing guide so their blogging journey sucks.
When I was new in the blogging field, I was also the guy who decided to leave blogging due to demotivation.
But, I didn't give up. A lot of things that I learned in these few years were shared on this blog.
Today If you want to know the awesome & effective blog title generator tools then keep reading this post.
I am using this tool for the last 1 year and I found it a very satisfying result. Your optimized title helps you to get more blog traffic to your site from social media or search engines.
5+Free Title Generator Tools For High SEO
Okay, it is the best time to start the Free Title Generator Tools to optimize your blog post headline
One of the free blog title generator tools that I am using to write this post is provided by suppressor.com. It is the tool where you can generate a good high ctr SEO-friendly blog title easily. You just need to input your keyword on their generator box and the rest of the work is done by this tool. The interface of the site is given below,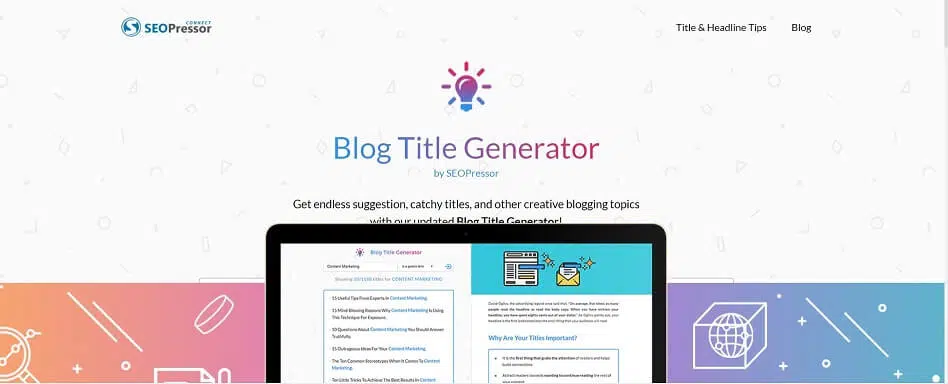 Most marketing industry professionals are aware of the site named Hubspot.com. This is the site that provides a lot of tools and products.
This site also provides one of the free tools which help to create cool blog titles, you need to type your main keyword and this software suggest the best 3-5 title for your article. The best one you can use in your article.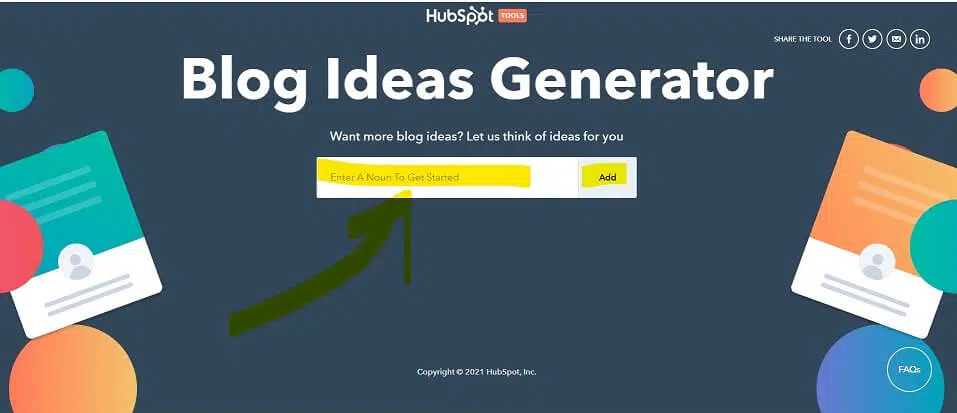 while considering the interface and the SEO accuracy I will suggest this tool provided by portent. The same thing you need to do as I told you in the upper section.
Put the keyword and click generate idea button the tool suggests one random title
If you are looking for an ultimate headline analyzer tool with an SEO score then this is one of the good options that you can definitely use.
I have used this tool to write many of my blog headlines. Also, this tool provides hundreds of power & emotional words that fit your title which brings most viewers to click on that post.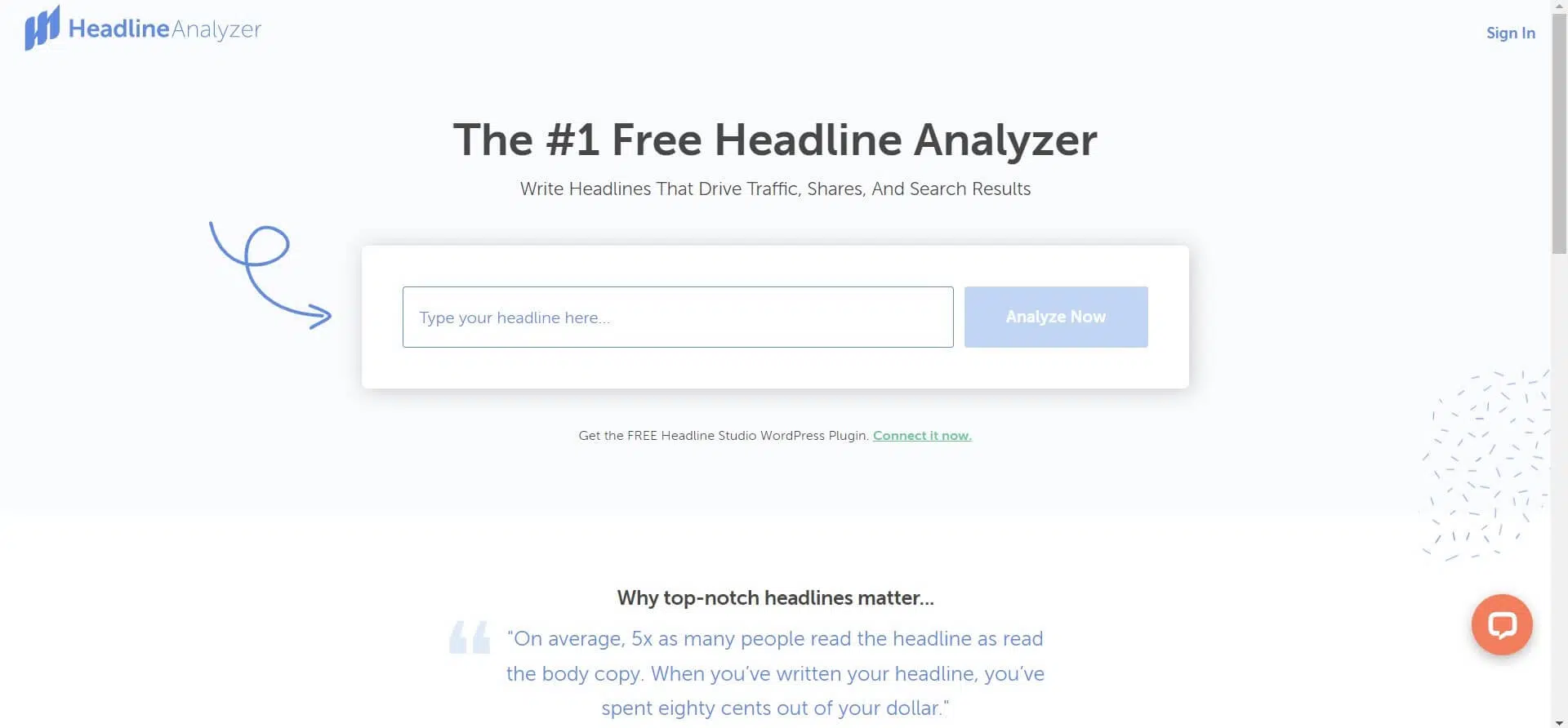 I found this site on google search results while searching the keyword Free Blog Headline Analyzer Tools and I found it worthy. I tested some of my blog post headlines and it shows good results. Generally, this tool shows some score when you put your blog post title on their headline enter box.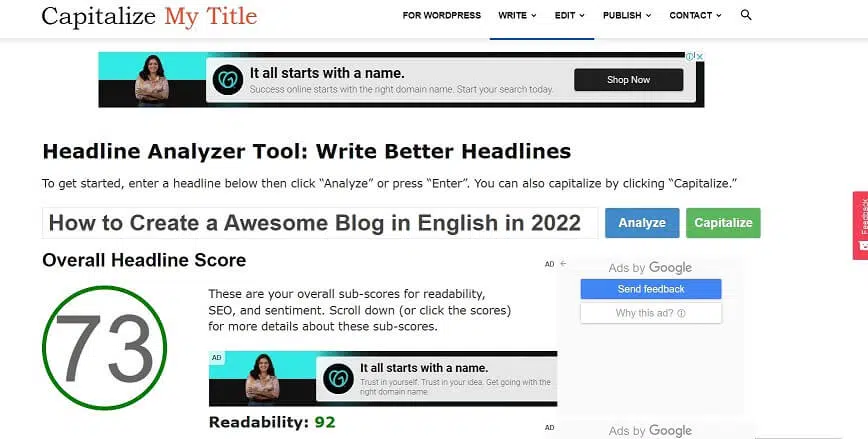 a high score means your post title is good for high ctr. also, they provide some guidance so that you can improve your headline score and get good results.
If you are a WordPress user then you may know the plugin named OptinMonster, wp forms, all in one SEO which all are brands of monsterinsights.com, and their site also provides some unique tools like a free headline analyzer for blog headlines.
with the help of this tool, a blogger can write their post with Incredible headlines with irresistible SEO headlines that brings traffic to their blog post and rank those post on search engine.
the interface of the site is shown below.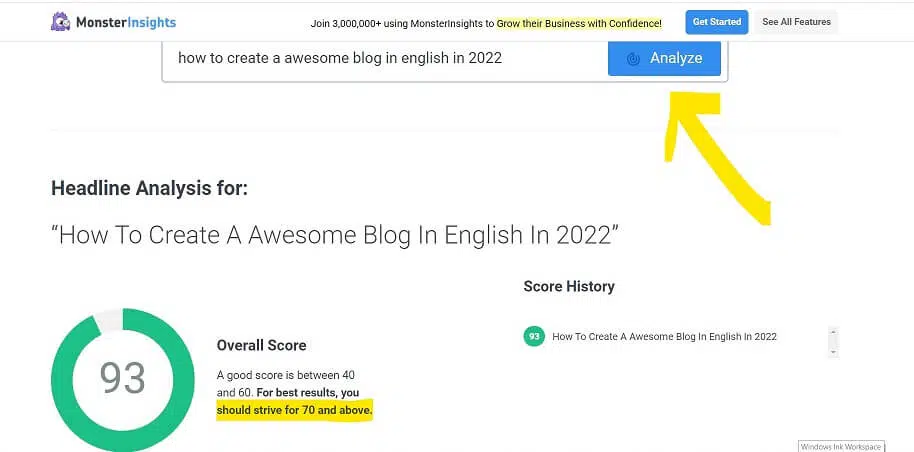 These are the 6 best free Blog Headline Analyzer Tools For High CTR & High Traffic. If you have any questing please ask in the comment section.