When it comes to SEO, content is undoubtedly the winner of the game. But do you know what really matters? It's not just about the topics you cover, but also how engaging and easy to read your content is…..
To achieve this, you need a top-notch user interface and website layout, and the theme you choose for your WordPress blog is an important element.
There are a lot of WordPress themes recommended for different purposes and types of websites. But you will be surprised to learn that I use GeneratePress for almost all my blogs.
Yes, you read that right, GeneratePress is The lightweight theme.
Even the blog you read on Spotblogging is customized with GeneratePress, as well as other popular websites like authorityhacker and hindimehelp .
Why do I and they use GeneratePress, you may think it …?
Well, for two reasons:
First, GeneratePress offers the most affordable price compared to other themes available in the market.
Second, while SparkleStore or Shops is designed for e-commerce websites and Astra has designed for niche-specific blogs, GeneratePress is not limited to a specific niche and works well for all types of websites…
Plus, GeneratePress offers an extensive library of website templates that you can import and use directly on your blog, making it an ideal option for cost-effective blogging.
GeneratePress Theme Overview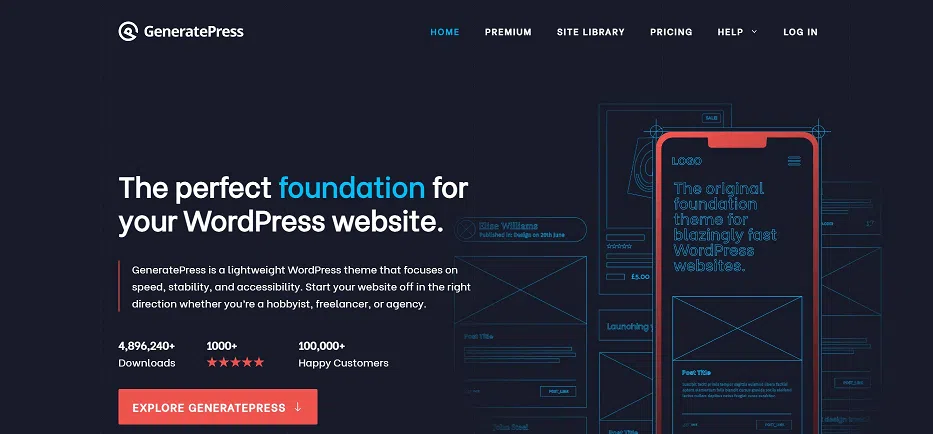 Now you will be surprised to know that GeneratePress is the best theme on the market. With a size of only 30 KB, it is the lightest of all themes you can have.
And to top it all off, they offer to let you buy it once and use it on unlimited websites for life.
It seems that you are interested in better understanding what GeneratePress offers. And whether it is available as a free or seasonal version.
For this reason, I have made an overview of GeneratePress with almost all the features GeneratePress offers, how it cost and how you can benefit from the same at a lower price.
Why choose GeneratePress as the best WordPress theme?
When it comes to WordPress blogs, a lightweight theme that is optimized for loading speed and search engine optimization (SEO) is essential.
GeneratePress is the perfect solution for these requirements,
but what makes it so special?
When GeneratePress is installed with the default WordPress settings, it has a maximum file size of only 30 KB, which makes it incredibly lightweight. In comparison, the popular WpAstra theme has a default install size of 50 KB.
Generatepress Speed test (Gtmatrix Grade)

Astra Speed test (Gtmatrix Grade)

Both the theme are good but generatepress is much faster than astra.
GeneratePress claims to have stable and robust code, which makes it a reliable choice for any website. The theme is optimized for search engine optimization (SEO), which means that it is designed to be search engine friendly and give your website an SEO advantage even before you start adding content.
Another notable feature of GeneratePress is its built-in Schema.org data system, which is crucial for search engine rankings.
Many themes don't have a default schema configuration, which can have a negative impact on a website's SEO.
GeneratePress includes Schema.org data by default, which makes it a smart choice for those who want to improve their website's SEO.
These are just some of the general features that make GeneratePress one of the best WordPress themes in my opinion.
Now let's take a look at what GeneratePress offers in its Site Library.
GeneratePress Site Library
As a beginner, designing a blog from scratch can be daunting, but with GeneratePress you'll have access to a collection of ready-made website templates that fit different niches.
The Site Library templates can be imported and set up on your blog with a single click.
The premium version offers an even wider selection of templates, which is definitely worth the investment.
As I mentioned earlier, GeneratePress is designed to cover different niches, so let's take a look at some of the Site Library templates.
Prime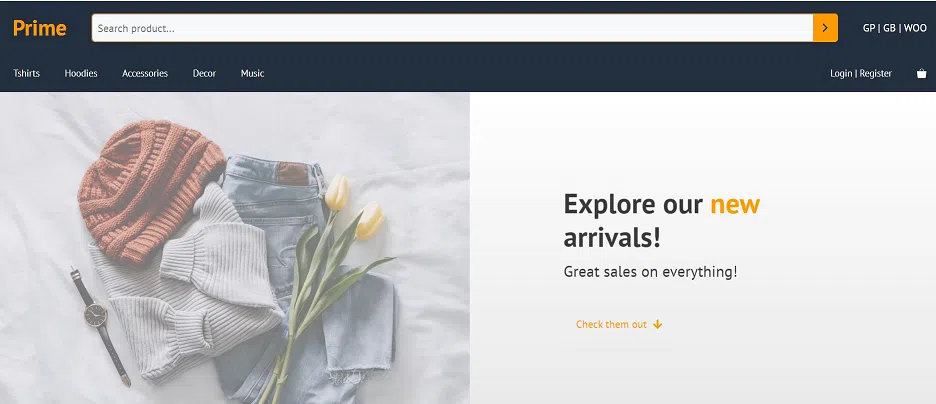 GeneratePress Prime Site Template Save If you're looking to create an e-commerce website, the Prime template is an excellent choice. The look alone shows how customizable your e-commerce store can be, and you can even preview it live. Thanks to the seamless integration with the WooCommerce plugin, creating an online store for your business will be a breeze as you can easily import products and create a perfect store.
Ideal for :
E-commerce online stores
Dropshipping stores
Fashion or design shops
Marketers
Marketer
GeneratePress Marketer Site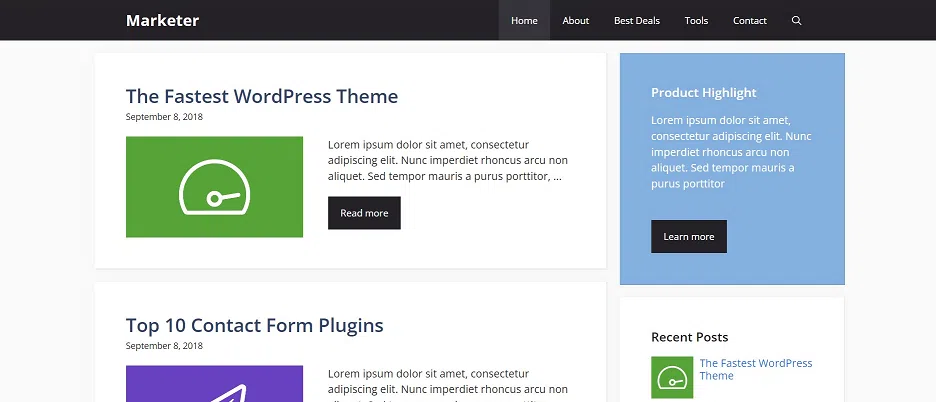 If you want to draw users' attention to your homepage alone, this template is perfect. Google Analytics often shows that a significant portion of the daily page views are directed to the home page, and the Marketer template is designed to attract attention with its business card-style layout.
This template is particularly useful for list-style blog posts, blogs with affiliate product reviews, and digital marketers.
In fact, I currently use a similar layout on my website…
Dispatch
Whether you want to create a news website, a website with general advice on various topics, or a travel blog, the Dispatch template is an ideal choice.
It features an elegant design that highlights recent posts or news.
Ideal for:
News websites
Websites with general advice on various topics
Travel blogs
Access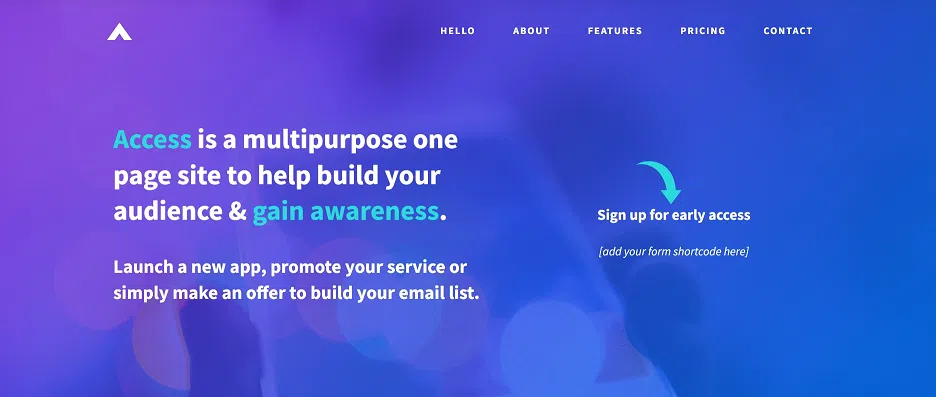 For those who want to create a business website in WordPress and offer their services, the "Access" template from GeneratePress Site Library is a perfect choice.
It offers options and blocks for clearly displaying products, prices and services.
This template is ideal for:
Service agencies
Digital retailers
General corporate websites

And the list can be continued, as there are numerous templates available in the Site Library for different needs.
If you want to learn more, you can click here to see live previews of all available templates.
If you are still not satisfied with the templates in the library, GeneratePress also offers templates specifically designed for the most popular page builders, such as Elementor and Beaver Builder, giving you even more customization options.
GeneratePress, a very popular WordPress theme, is available for free in the WordPress theme directory.
However, it has some limitations that make the situation even more complicated.
GeneratePress offers both a free and a Pro version, but access to features like the page library and advanced customization options are only available in the Pro version, which makes it even more complex.
GeneratePress Review Highlights
In this stunning review of GeneratePress, I will highlight the key features of this theme and compare the free and Pro versions.
For those who prefer the free version, you can download it from their site..
As you can see in the screenshot above, GeneratePress has more than 300,000 active installations, which indicates the large number of websites that currently use this theme.
Customization option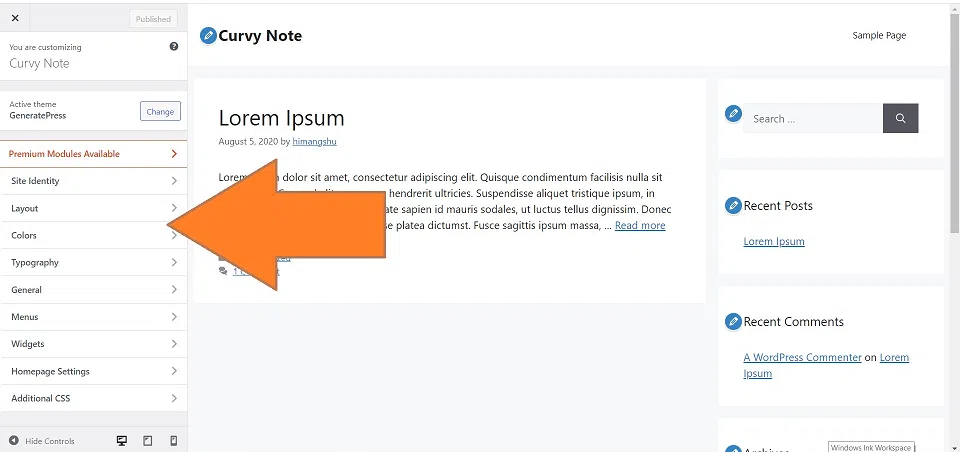 In its free version, GeneratePress offers plenty of basic website customization options that allow users to create a simple blog site.
However, GeneratePress' premium features offer even more comprehensive customization options that let bloggers truly personalize their websites.
Now, I know some might argue that using a template is limiting, but believe me, with GeneratePress you have the ability to completely customize your website to your liking.
However, if you choose to use a template, the Site Library is a fantastic resource that will save you a lot of time and effort.
Let's talk about the color options. The free version of GeneratePress offers basic colour options that you can choose from the central theme customization, and they are not limited to any particular element.
However, if you want to take the design of your website to the next level, the premium version offers over 60 different colour options that you can apply to each element individually.
This means you can use different colors for buttons, menus, and more. It's entirely up to you and your creativity!
Typographic option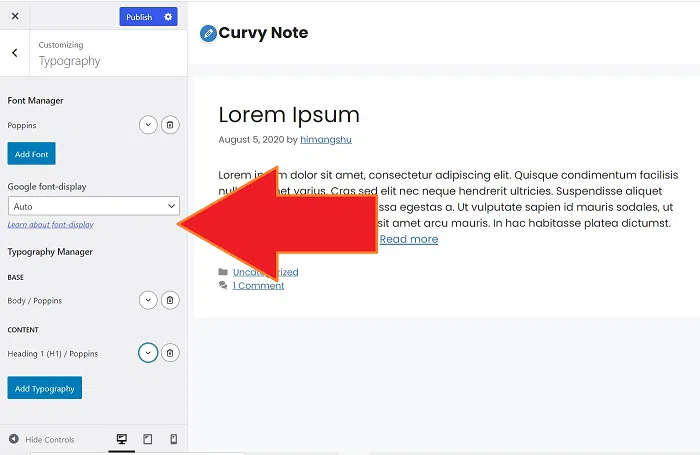 As for typographic options, the premium version of GeneratePress offers over 70 different typographic options, so you have complete control over customizing your blog.
You can choose different fonts for different elements such as titles, subtitles and text. This means that you can give your website the look you want and it will stand out from other websites that use generic fonts.
Overall, GeneratePress is a fantastic theme that offers a lot of customization options. Whether you are a beginner or an experienced blogger, this theme is definitely worth a try.
It has an easy-to-use interface and many features that will help you create a website you can be proud of.
So, what are you waiting for? Try GeneratePress and see what a difference it can make in the design of your website!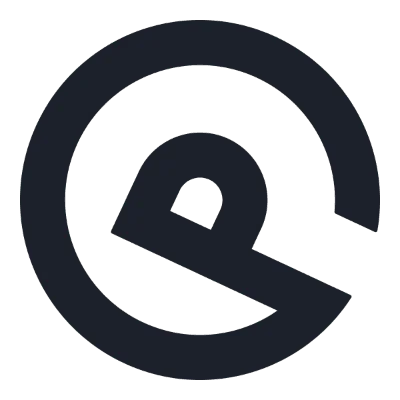 Our Verdict
Generatepress is a lightweight theme that's great because it focuses only on essential features, without adding any that could make it slow. However, its minimalist design might be challenging for inexperienced users.
Check Generatepress Here
One of the main features of this theme is the built-in hook functionality, which allows you to easily insert verification codes for Google Analytics or Adsense into the header or footer of your website.
With GeneratePress, you can create a hook and simply copy and paste the code, allowing you to insert the code wherever you need it.
Also, GeneratePress offers a Page Hero feature that allows you to insert a featured image or any image of your choice into the header of blog posts or pages.
This feature also allows you to combine images with menus or logos to achieve a coherent and professional look.
But that's not all: GeneratePress also includes a layout element that allows creating pages with the same level of customization as popular page builders such as Thrive Architect or Elementor.
Although the free version of GeneratePress offers some customization options, you'll lose many of these dynamic elements if you don't upgrade to the premium version.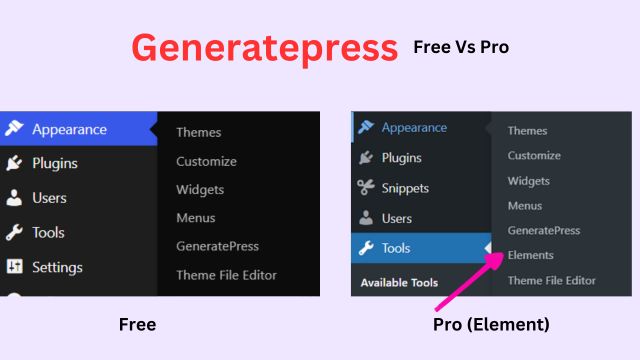 For example, if you want to create separate boxes for content or side details, or customize padding on different sides of the box, you'll need to upgrade to the premium version.
Overall, GeneratePress is an excellent choice for anyone looking for a flexible and dynamic WordPress theme with plenty of customization options.
Blog and Menu Customization
The free version of GeneratePress offers basic customization options for the primary navigation menu, including the footer and sidebar.
If you want to set up secondary navigation at the top, left, right, or elsewhere, you'll need the Pro version.
Navigation options for GeneratePress
Also, options like Sticky Navigation, Floating Header or Off-Canvas menu selection with page overlays are available only in the Pro version.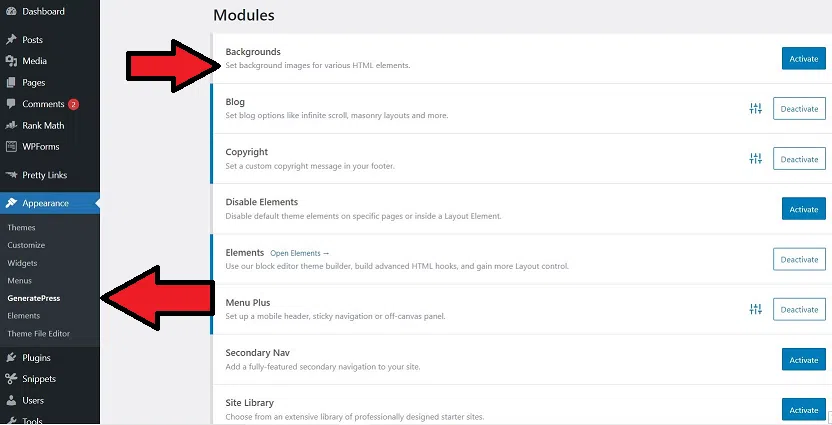 If you want to control the position of feature images in various layout options like Masonry or Columns and have features like Infinite Scrolling, the Pro version is essential.
Other features GeneratePress has many interesting features that can only be fully enjoyed if you have the Pro version. However, some of the features that are worth mentioning are:
WooCommerce
The theme has a WooCommerce feature that you can use for your own online store.
| | |
| --- | --- |
| Background | You can set or change the background images of your choice. |
| Copyright | As with other themes, you can set a text message about the copyright. |
| Disable Element | If you want to disable a specific element, such as a title or sidebar, for a particular page, post or category, you have full control over it. |
GeneratePress Support
Being familiar with the changes that occur daily in the WordPress or SEO industry, it's essential to have a support framework on the theme side. GeneratePress leads the way in this area, having three types of support available when I checked it out for myself.
GeneratePress offers comprehensive documentation that can help you resolve any issues you encounter.
Four different types of documentation are offered, from which you can choose the one that best suits your needs.
In addition to the documentation, GeneratePress also offers an open forum where anyone can ask their questions and get answers from others who have already asked similar questions. GeneratePress technical staff usually responds within 24 hours.
If you have any pre-purchase questions, you can contact them through the contact form on their website.
After reading this post, you may have already received the answers you were looking for. If you have any questions about the service, please contact the support section of the forum.
Now that you know the features of GeneratePress and why it could be the ideal solution for your WordPress website or blog, you may be wondering what the price is.
If you want to use the basic version, it's free.
Simply go to the WordPress admin dashboard and look for GeneratePress under
Appearance > Theme > Add New Theme.
You can then install and activate the theme. However, if you want its premium features, you'll need to purchase it.
For just $49.95, GeneratePress offers all the premium features, including full access to the website library, one year of automatic updates, and personalized support.
You can use this theme's license key on an unlimited number of websites with a single purchase, and you don't have to spend anything extra on a new website. You also have a 30-day money-back guarantee.
If you need to renew your license, you will get a 40% discount on the current price, which can be used only once.
If you still need updates and extended support for the theme after the first year of purchase, you can renew your license. However, if you decide not to renew the license, you don't have to worry because you still have full control over the theme.
Isn't this the most convenient option with all the premium features?
I'm sure I've answered all your questions about GeneratePress and highlighted the differences between the free and pro versions of the theme.
To make it easier for you to understand, here is a summary of all the features in one common table.
In my opinion, choosing a theme and a hosting provider can be a difficult decision for bloggers. However, I recommend GeneratePress as a complete theme and A2 as a hosting provider due to their extensive functionality.
Since it is a lightweight and well-optimized theme, I personally use GeneratePress for almost all my websites. The fact that I only have to buy it once and can use it on multiple websites is a big advantage.
While the free version of GeneratePress is suitable for basic website customization, the Pro version offers complete control and is definitely worth the investment for your blog. If you are interested in purchasing the theme, click here.
It's worth noting that both the free and Pro versions of GeneratePress are optimized for mobile devices and SEO. Overall, I highly recommend GeneratePress as a versatile and reliable theme for bloggers.
Frequently asked questions about the GeneratePress theme
Q1: Can I add more CSS to the GeneratePress theme?
A: Yes, GeneratePress provides an additional editing panel in the theme customization where you can easily add additional CSS and CSS.
Q2: Is GeneratePress available for free?
A: Yes, you can download the free version of GeneratePress and use it for basic theme customization.
Q3: Does GeneratePress offer a money-back guarantee?
A: Yes, GeneratePress offers a 30-day money-back guarantee.
Q4: Can I create a child theme with GeneratePress?
A: Yes, you can create a child theme for GeneratePress and add custom CSS and PHP in the style.css file. You can find detailed documentation in the support documentation.