This article is a review of katteb AI article writer. If you are looking for a katteb ai writer user review then this post will help you.
In the digital world of infinite scrolling and ever-shortening attention spans, long-form content feels like fresh air. It not only helps establish your expertise but can also give your search engine rankings a much-needed boost. But producing such in-depth pieces consistently is no mean feat, especially with the constant pressure of churning out fresh content.
So, when I first came across KATTEB, I was intrigued. Could it live up to its promise of being the best long-form AI writer? Join me as I delve deep into KATTEB's features, capabilities, and performance to unfold the truth in this comprehensive review.
It's time to get all your questions answered and decide whether this AI-powered tool is the game-changer you've been looking for!
Introducing Katteb: A Game-Changing AI Writer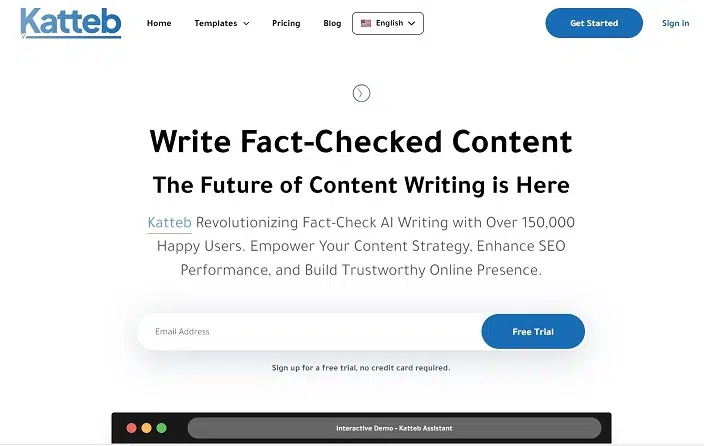 Do you need help creating engaging blog posts or social media content?
Ever wished for a magical tool to generate high-quality articles without spending countless hours researching and writing?
Well, your wish has been granted! Say hello to Katteb, a revolutionary AI writer taking the content creation world by storm.
I stumbled upon Katteb a while ago and decided to give it a whirl. In this introduction, I'll share some insights about this fantastic tool, specifically crafted for bloggers, content creators, and writers like us! By the end, you'll be eager to harness Katteb's power for your content needs.
Who uses Katteb
As a content creator, Katteb is an incredibly useful tool for many people. From bloggers to content marketers, copywriters, and even small business owners, anyone who needs to generate high-quality content can benefit from Katteb's AI writing capabilities.
I've found it a lifesaver when I'm pressed for time or struggling with writer's block. It's especially helpful for those who constantly need to produce well-written, engaging content without spending hours in front of the computer. Overall, Katteb is a versatile and valuable tool for content creation.
Unique Features of Katteb AI Writer
One unique feature I love about Katteb AI Writer is its Katteb Plus tool, which is designed to generate factually accurate content for various purposes. It moves away from the standard GPT-3 algorithm and uses its proprietary technology to create real-time content. This truly sets it apart from other AI writing tools.
Another impressive feature is its AI article writer and rewriter, which allows users to create and spin content quickly and easily. This can be a huge time saver for content creators who must produce high-quality articles regularly.
Lastly, the AI art generator in Katteb is a fantastic addition for those looking to create engaging visuals alongside their written content. With this feature, users can generate eye-catching graphics that complement their articles, making their online presence more dynamic and visually appealing.
Fact-checking capabilities of Katteb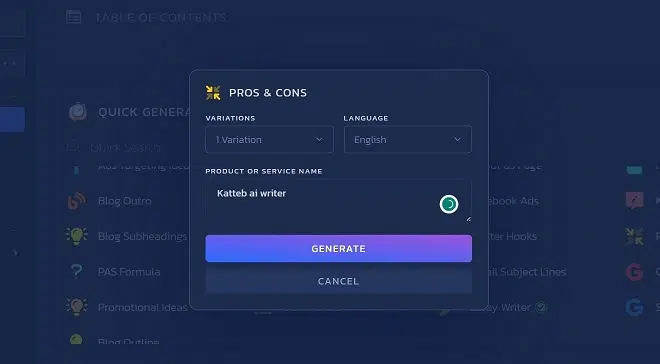 One of the standout features of Katteb is its impressive fact-checking capabilities. In contrast to many other AI writing tools, Katteb takes extra care to ensure its content is accurate and up-to-date. Knowing that I can trust the information this AI writer has provided is such a relief.
This feature made a huge difference in my experience for someone like me who values factual correctness. I no longer need to spend precious time double-checking the content for accuracy. Katteb has truly taken my content-creation process to a whole new level.
Comparison of Katteb with Other AI Writers
In my experience with AI writers, Katteb has been a game-changer compared to its alternatives like Article Forge, Wordplay AI, and Jasper AI. Katteb stands out with its unique ability to generate full articles with a single click, fact-check in real time, and localize content.
Compared to Article Forge, I've noticed that Katteb produces more accurate and up-to-date content. Similarly, Katteb outshines Wordplay AI in terms of writing quality and fact-checking. As for Jasper AI, I have found Katteb to be more cost-effective and efficient in generating content quickly.
Overall, Katteb has been a reliable and user-friendly AI writer that has proven to be an excellent investment for me. It has helped me save time and effort without compromising content quality or usefulness. I strongly believe that anyone in need of an AI writer should give Katteb a try.
How to get started with Katteb
Getting started with Katteb is quite simple and hassle-free. First, head to their website and sign up for a free trial—no credit card is required. Once you've entered your email address and created an account, you can dive right in and explore the platform.
Katteb's user-friendly interface makes it easy for both beginners and experienced users. Begin by choosing from their list of AI-powered tools, such as content generators, and entering your desired keywords or topic.
Click the generate button, and voilà, you'll have a well-written article at your fingertips, ready for polishing and publishing.
Jasper AI vs. Katteb: which one is better?
When choosing between Jasper AI and Katteb, the decision depends on your specific requirements. As a content creator, I have experience using both platforms, and each has its strengths.
Jasper Ai
Jasper AI, a more established and popular choice, offers an extensive range of templates and powerful features that make it exceptionally versatile. It can handle various content types, including blog posts, social media updates, and ad copy. The writing quality is also quite impressive.
Katteb
On the other hand, Katteb is relatively new but shows promise with its unique approach to fact-checking and generating full articles with one click.
This feature can be a game-changer for creators who are pressed for time and want accurate content quickly.
So, if you're after versatility and a proven track record, Jasper AI might be the better choice. However, if fact-checking and efficient long-form content generation is your top priorities, Katteb could be the ideal fit. Ultimately, both platforms have their merits, and it's up to you to decide which suits your needs better.
Pros of Using Katteb AI Writer
One of the biggest pros of using Katteb AI Writer is the time-saving aspect. This incredible tool has helped me automate much of my content writing, allowing me to focus on other important aspects of my work.
Another advantage is the fact-checking feature. With Katteb, I trust that the content generated is well-written, accurate, and up-to-date. This has been a game changer, as I no longer need to spend hours verifying facts and information.
I also found Katteb's user-friendly interface a breath of fresh air. It's easy to navigate and intuitive, making the whole content generation process much smoother and more enjoyable.
Lastly, the one-click article generation has been a lifesaver. No more waiting around for paragraphs or sections; Katteb gives me the complete article in one go! Overall, the pros of this AI writer certainly make it a worthwhile investment for any content creator.
Cons of Using Katteb's AI Writer
As much as I love using Katteb AI Writer, there are a few downsides worth mentioning. One of the main cons I've encountered is the occasional inconsistency in the writing quality. While it does produce great content most of the time, there are instances where it needs to be improved.
Another drawback I noticed was the limited customization options. It might not cater to every writer's unique style and preferences.
Lastly, while the price is reasonable, it may still be expensive for some users, especially considering that competitive alternatives are available.
Overall, though, Katteb still offers a valuable service for content creators.
Is Katteb's AI writer worth the investment?
Is Katteb's AI writer worth the investment? The answer is a resounding yes! The fact-checking feature sets it apart from competitors, which is incredibly valuable for any content writer.
Generating a full article with just one click is another huge time-saver.
I've found that the investment in Katteb pays off in terms of time and quality. So, if you're a blogger, content creator, or writer, try Katteb. You will be satisfied with the results.
Pricing
The pricing for Katteb is one of its most attractive features. Unlike many other AI writing tools that charge a premium, Katteb offers affordable pricing options and occasional lifetime deals.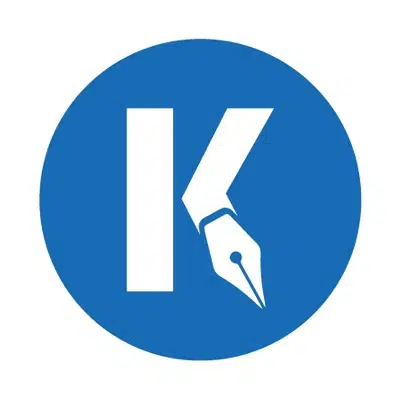 This makes it an excellent choice for bloggers, content creators, and even agency owners looking to save money on their writing expenses without compromising quality.
In fact, after trying the free 2000-word trial, I was so impressed with what Katteb had to offer that I decided to subscribe without any hesitation.
The value that it provides, combined with its affordability, makes it a must-have tool for anyone seeking a high-quality AI writing solution. Trust me; your wallet will thank you!
What is the refund policy for Katteb?
Katteb understands the importance of customer satisfaction, so they offer a refund policy for their AI writing tool. If you try Katteb and find it's not meeting your needs or expectations, you can request a refund within a specified time frame. This shows that the company is confident in its AI writer's effectiveness and genuinely cares about its customers. Offering a refund policy gives users peace of mind when purchasing and trying the platform for their content needs.
My experience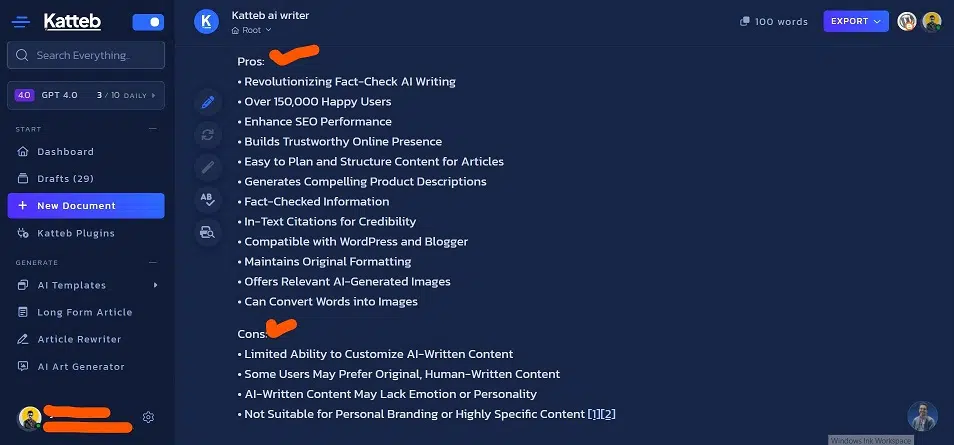 My experience with Katteb has been a real game-changer in my content creation journey. As a busy writer, this AI tool has saved me valuable time and effort, allowing me to focus more on crafting compelling stories and engaging with my audience.
The first time I tried Katteb, I was genuinely impressed by its ability to generate a full article in just one click, which not many AI writing tools can do.
Furthermore, it offers fact-checked content that's always relevant and accurate. This aspect of the tool gives me peace of mind regarding the legitimacy of the content it produces.
Katteb has exceeded my expectations regarding its user-friendly interface and efficient support system. Additionally, I appreciate its affordability; the lifetime deals are attractive and worth investing in.
Does Katteb have an active community with support?
Katteb has indeed built an active community and support system for its users. As a user, I've seen firsthand how their customer service is responsive and helpful in addressing any concerns or issues arising while using the platform.
Additionally, the user community shares valuable tips and experiences, which helps newcomers and seasoned users better utilize Katteb's AI writing capabilities. T
he strong community and support system enhances the overall experience of using Katteb as a long-form AI writer.
Summary
In summary, Katteb is a promising AI writing tool that claims to generate high-quality, fact-checked content in real-time. Specifically designed for bloggers, content creators, and writers, Katteb offers full article generation in one click. Users have praised its capabilities, comparing it to other popular AI writing tools like Jasper AI.
However, taking advantage of its free trial is essential to see if it suits your needs and preferences. Katteb is an innovative, time-saving tool that strives to deliver accurate and engaging content for various niches.