If you are looking for cheap and reliable web hosting and domain name services in India, Bigrock is one of the right options for you.
I have also been a user of this hosting and domain company in the past. and their service satisfied my needs. ..Bigrock was founded in 2010 and has become one of the most popular web hosting providers in India. The company offers a wide range of services to meet the needs of individuals, small businesses and large corporations.
Ok, In this blog post, we'll take a closer look at Bigrock and what makes the company the best choice for web hosting and domain names in India. Let's get started.
Introduction to Bigrock
Before starting the Bigrock review section you have to know their introduction.. hehe boring ???? you can skip it or read it. it's your choice…..
What is Bigrock?
Bigrock is a domain registration and web hosting company that offers cost-effective solutions to get businesses online in India. It is one of the best hosting providers in India and offers a variety of specialized web hosting plans.
BigRock has servers all over the world so that customers can host their websites with ease. BigRock offers domain name registration services and various types of hosting solutions, including Linux-shared hosting, Windows-shared hosting and WordPress hosting plans.
The company also offers a user-friendly and easy-to-use Cpanel, which is suitable for customers with no technical knowledge. BigRock features high speed and performance, making it an excellent choice for businesses that need speed and reliability.
The company accepts various payment methods and customer support is always available to help with any issues.
All in all, Bigrock is an excellent, affordable and efficient hosting provider that is suitable for businesses that want to make their mark online in India.
Domain Service and Hosting Provider
As mentioned before, BigRock is a domain and hosting provider that offers a wide range of affordable hosting solutions. It is best known for its affordable domain registration services, which allow businesses to easily secure their domain names online.
Also, BigRock offers various hosting options such as shared web hosting, reseller hosting, VPS, cloud solutions, SiteLock services and domain hosting. BigRock also offers a website builder that is useful for beginners who want to host a website. It has data centres in India that provide servers that are 10 times faster than the US hosting at an affordable price.
Overall, BigRock is a reliable and secure web hosting provider that offers its users access to high uptime, unlimited SSL, free domains and amazing key features. Customer support is also available 24*7 to answer any doubts or queries.
Affordable domain solutions from Bigrock
Bigrock offers affordable domain solutions, making it one of the best providers in the industry. Domain registration starts at affordable prices with the added option of privacy protection that guarantees the confidentiality of personal data.
The domain transfer service is hassle-free and allows customers to transfer their domain to Bigrock at no additional cost.
Bigrock offers a wide range of domain extensions, including popular options such as .com, .in and .org, as well as newer extensions like .online and .store.
All in all, with its affordable domain solutions and exceptional customer service, Bigrock is an excellent choice for individuals and businesses looking for reliable domain registration services at an affordable price.
Where are BigRock's servers located?
BigRock's servers are located in several data centres around the world, making it easy for customers to choose the location that best suits their needs. These data centres have state-of-the-art facilities and are strategically placed to ensure optimal network connectivity and minimal latency.
Some of the locations of BigRock's servers are the United States, India, and the United Kingdom. This means that customers can benefit from fast and reliable hosting services regardless of their location.
The use of multiple data centres ensures that BigRock's services are highly available and less prone to downtime.
Review of BigRock's domain services
BigRock is known for its affordable domain registration services. At BigRock, you can register your domain at a lower cost than most other web hosting providers on the market.
Not only that, BigRock's domain registration services come with many features that make domain management easy and convenient.
For example, the company offers an easy-to-use domain management panel that allows you to make changes to your domains, including DNS configuration, WHOIS privacy settings, and more. As an ICANN-accredited registrar, BigRock offers end-to-end control over domains, which increases user confidence.
BigRock offers its clients a wide range of TLDs (top-level domains) at an affordable price. Overall, BigRock's domain registration services are reliable, affordable, and easy to use, making them the best choice for website owners seeking an excellent domain registration experience.
BigRock's review of hosting services
BigRock offers various hosting plans, including shared web hosting, reseller hosting, VPS, cloud solutions and WordPress hosting. The company's hosting services offer different features and benefits depending on the plan chosen.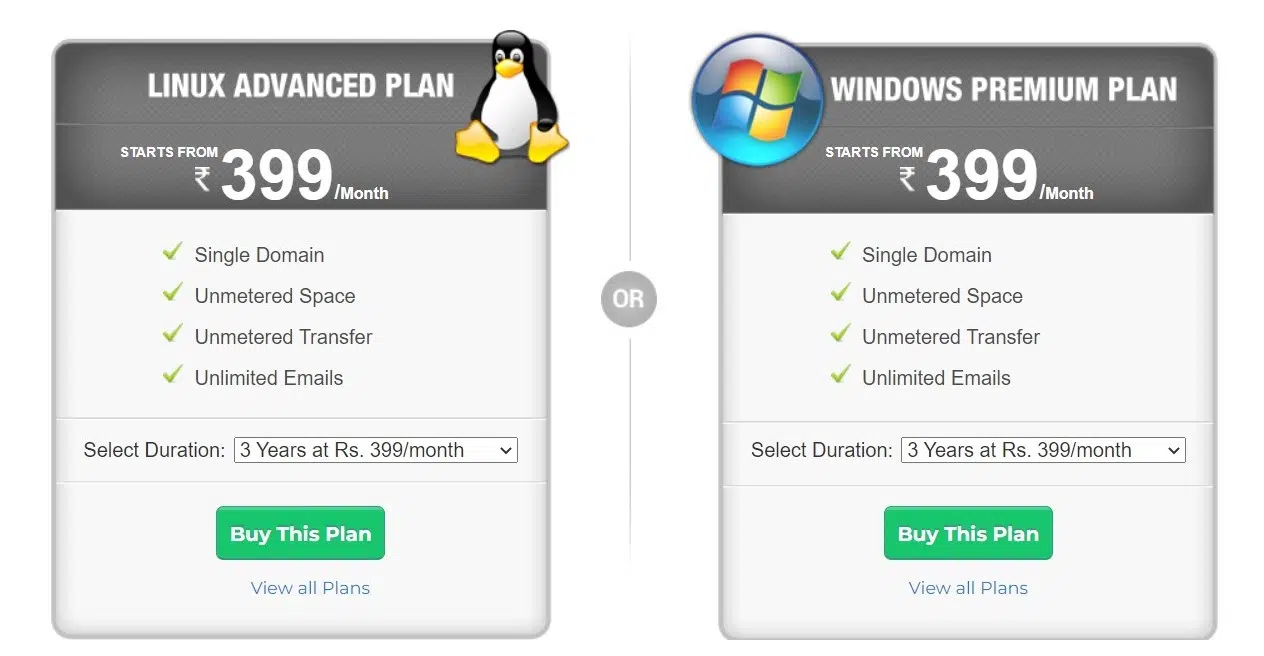 The Linux shared hosting plan is suitable for small businesses and bloggers who need basic features like unlimited bandwidth and storage.
The Windows shared hosting plans, on the other hand, are ideal for those who need support for ASP.NET, MSSQL and Windows Server.
For WordPress users, BigRock offers a dedicated hosting plan that is optimized for fast performance and easy management.
Overall, BigRock's hosting services are reliable and affordable, and their servers are solid through and through, so the network works flawlessly.
However, customers should be aware of some hidden costs, but they are not too high. If you are looking for a cheap hosting provider that offers good performance and support, BigRock might be a suitable choice.
BigRock's Linux shared hosting plan is the ideal choice for those who are looking for a reliable and affordable hosting solution. With unlimited domains and email addresses, ample bandwidth and disk space, this offer will keep your website running smoothly and with minimal downtime.
The 30-day money-back guarantee further enhances the value for money. The customer service team will also be happy to assist you if needed. Since Linux is an excellent choice for web developers and designers, BigRock's Linux shared hosting plan allows you to have complete control over the customization and performance of your website.
BigRock's Linux shared hosting plan is an excellent option for those who are looking for a stable and affordable hosting solution without compromising on quality.
BigRock's Windows shared hosting plans are a popular choice for customers seeking reliable and affordable hosting solutions. These plans offer a robust feature set, including unlimited domains, e-mail accounts and storage.
Customers can also choose from Plesk and cPanel control panels to manage their websites. Plans also include a 30-day money-back guarantee and 24/7 customer support.
Customers have reported satisfactory performance and speed for their websites hosted on BigRock's Windows shared hosting plans. Overall, these plans are an excellent option for businesses and individuals looking for affordable Windows hosting solutions.
BigRock's WordPress hosting plan review
When it comes to WordPress hosting, BigRock has it all. Their plans are reasonably priced and offer a good range of features. With their WordPress hosting plan, you get unlimited storage space and bandwidth, as well as easy installation and migration options.
The servers are reliable and have good uptime, which means your website will always be available and running smoothly.
BigRock offers 24/7 customer support to help you solve any problems. If you are looking for affordable and reliable WordPress hosting, BigRock should be on your list of options.
BigRock review from Cpanel
BigRock offers its customers an easy-to-use and user-friendly control panel, namely cPanel. With this control panel, users can easily manage their websites, including managing e-mail accounts, domains, and files.
The user interface is intuitive and easy to use, even for beginners. In addition, BigRock offers the Softaculous installer, a popular tool that allows users to easily install popular software such as WordPress or Joomla. With cPanel, website owners can also view site statistics and manage backups.
BigRock's cPanel is an excellent tool that allows website owners to manage their site conveniently and hassle-free.
BigRock's rating of performance and speed
When it comes to web hosting, performance and speed are crucial factors to consider. Fortunately, BigRock is consistently among the most reliable and fastest hosting providers in India.
The company's servers are mostly located in the USA and have an uptime of 99.9% when it comes to VPS hosting. This means that you can expect minimal downtime and delays on your websites, even during periods of high traffic.
BigRock offers cloud hosting, which is ideal for businesses that want even more speed. Overall, BigRock's performance and speed are some of the reasons why the company is considered one of the best and most affordable hosting and domain name providers in India.
What payment methods are available with BigRock?
BigRock Hosting supports two payment methods: one for Indian customers and the other for all other customers worldwide. Indian customers can pay with credit/debit cards, net banking, wallets or UPI, while international customers can pay with PayPal, MasterCard or Visa credit/debit cards.
The payment methods accepted by BigRock are hassle-free and securely encrypted. Customers can make payments with ease and peace of mind knowing that their transactions are protected.
The simple and straightforward payment method is one of the reasons why BigRock is the preferred choice for web hosting and domain name registration in India.
BigRock Customer Service and Support
When it comes to web hosting, customer service and support are key. BigRock knows this very well and offers solid technical support and customer service. The support team is available 24/7 via phone, email or chat.
It also has a solid knowledge base with useful articles and guides. Although some customers have reported poor customer service experiences, most reviews praise the customer service.
The company prides itself on offering high-quality hosting and domain services, and this is reflected in its customer service.
Overall, BigRock provides reliable customer service and support to ensure that the needs of its customers are met.
Is BigRock's hosting good?
Based on the above facts, it can be concluded that BigRock is a decent web hosting provider. Although it does not have any outstanding features, its affordable prices and reliable servers make it a suitable option for those who have a tight budget.
Moreover, the customer service was found to be helpful and cooperative. However, it should be noted that there might be some hidden costs and that the company is mainly based in India.
Compared to other popular web hosting providers like Hostinger, BigRock might not be the best option, but it remains a solid choice for those looking for affordable hosting solutions in India.
My opinion on BigRock
After taking a closer look at BigRock's hosting and domain services, it's clear why it's the best affordable provider in India. With affordable and convenient domain solutions, the servers are located in the most strategic locations to ensure fast and reliable services. The Linux and Windows shared hosting plans, as well as the WordPress hosting plan, offer excellent value for money.
The user-friendly Cpanel contributes to BigRock's overall user experience. Moreover, the customer service and support are top-notch and ensure that customers never feel unserviced.
All in all, BigRock is an excellent option for those looking for affordable hosting and domain solutions without compromising on quality.