Imagine having the power to craft immersive digital experiences that satisfy your users' needs and keep them coming back for more. Picture yourself skillfully weaving words that breathe life into designs and guide users seamlessly through intuitive interfaces.
As a UX writer, you hold this power in your hands—the power to make or break a user's experience. But with great power comes the need for great support tools to further enhance your creative prowess.
In the fast-paced world of UX writing, it's crucial to have ready access to top-notch tools that enhance your workflow, save time, and boost the effectiveness of your content. With an overwhelming array of tools on the market, the quest to find the best ones can be daunting.
But fear not, dear reader; we've done the heavy lifting for you.
In this blog post, we'll introduce you to the 10 best UX writing tools designed to elevate your art and help you create unforgettable user experiences.
So sit back, relax, and prepare to discover your new favourite toolkit treasures.
About UX writers and what they do
UX writers are crucial in crafting seamless and intuitive user experiences for digital products. They create clear, concise, and engaging copy for user interfaces, ensuring users can easily navigate and interact with websites, apps, and other digital platforms. By working closely with designers, developers, and product managers, UX writers help shape the overall user experience, guiding users through the necessary steps and actions within a digital product.
The primary goal of a UX writer is to provide users with the right information and guidance at the right time, making the entire user journey smoother and more enjoyable.
One of the key aspects of UX writing involves maintaining a consistent tone and voice for a brand or product. UX writers ensure that all microcopy, which includes button labels, error messages, and onboarding instructions, adheres to established guidelines and speaks to the user in a way that aligns with the brand's identity.
This involves careful word choice, empathetic writing, and understanding the user's mindset and needs. By thoughtfully crafting the language within a digital product, UX writers actively contribute to the product's overall user satisfaction and perceived usability.
To excel in their craft, UX writers utilize various specialized tools that help streamline their workflow and collaborate effectively with other team members.
These tools often include design platforms like Figma and Sketch for editing and reviewing interface copy; writing and editing apps like Hemingway Editor for enhancing readability; communication tools like Slack for seamless collaboration; and user testing tools like Maze for conducting unmoderated usability tests.
By leveraging these tools, UX writers can efficiently create copy that resonates with users and aids in building a delightful user experience.
The best UX writing tools to polish your web content
The digital landscape has made it essential for UX writers to create engaging and user-friendly content. A diverse range of UX writing tools is available to help polish web copy and make it stand out. Tools like the Hemingway App and Readable enhance readability by identifying complex sentences, passive voice, and adverbs, assisting writers in creating concise and clear content.
Collaboration and consistency are crucial aspects of UX writing and tools like Fortitude and Ditto make it easy to manage copy and collaborate with visual designers. To further enhance the user experience, UX research tools such as OptimalSort, Maze, and Hotjar provide invaluable insights into user behaviour, enabling UX writers to deliver more effective and appealing content.
With such versatile tools, UX writers can now create web content that engages readers and drives action.
1. Readable: The Great Accessibility Checker
Readable is a top-notch accessibility checker designed to help UX writers improve the quality and readability of their content. This user-friendly tool analyzes text and offers valuable insights into its structure, clarity, and overall readability.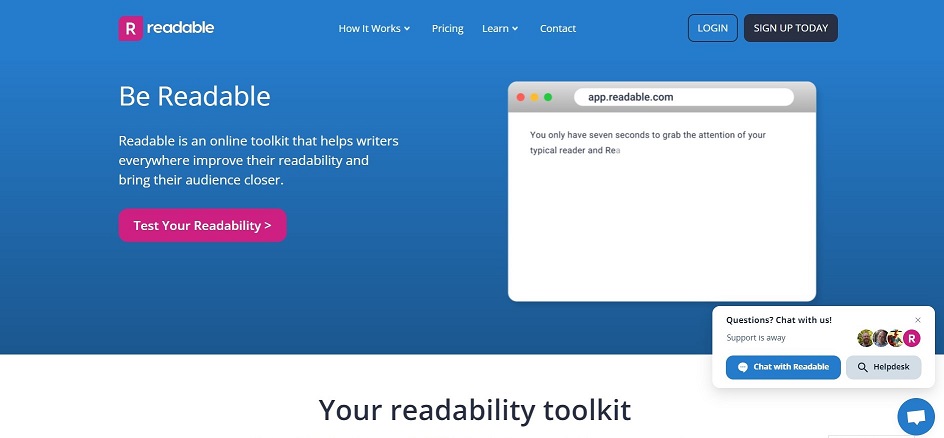 By examining different factors such as sentence length, word choice, and voice, Readable assigns a unique readability score to the content, ensuring it appeals to a broad range of audiences.
As a result, UX writers can tailor their content to meet the needs and preferences of their target users, making it more engaging, informative, and accessible. With keyword density analysis and URL analysis features, Readable provides an all-encompassing platform for perfect editing and fine-tuning content.
2. Frontitude: The Ultimate UX Copy Tool
Fortitude is a fantastic UX writing tool that I've found to be a game changer in managing and collaborating on UX copy. I love its compatibility with Sketch and Figma, which allows for seamless copy updates directly to design files.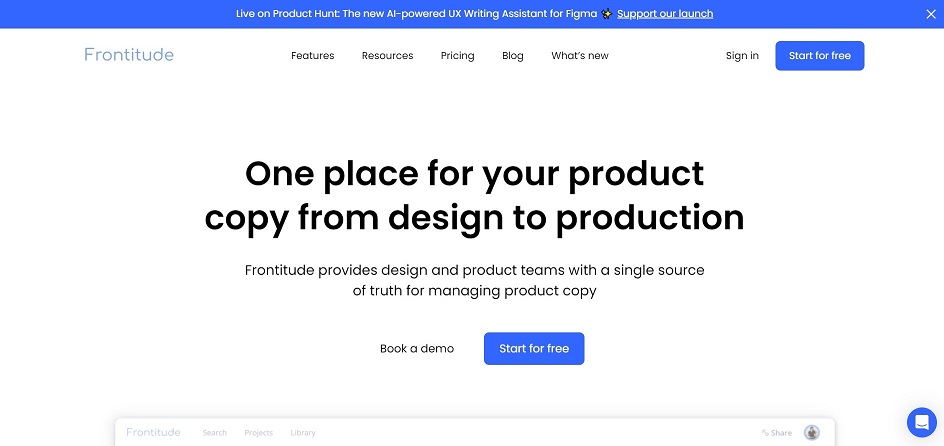 Say goodbye to endless back-and-forth with designers and cumbersome screenshot markups
But the best part about Frontitude has got to be its ability to maintain copy consistency. No more changing the same text in multiple spots; update it once, and you're done! This tool has simplified my UX writing process and has been a lifesaver on numerous projects.
3. Miro: The Endless Digital Whiteboard
As a UX writer, I can't emphasize enough the importance of having a flexible and comprehensive tool like Miro. Not a day goes by when I don't use this endless digital whiteboard for various tasks. Whether I need to create a quick wireframe or host a collaborative design session with stakeholders, Miro has me covered.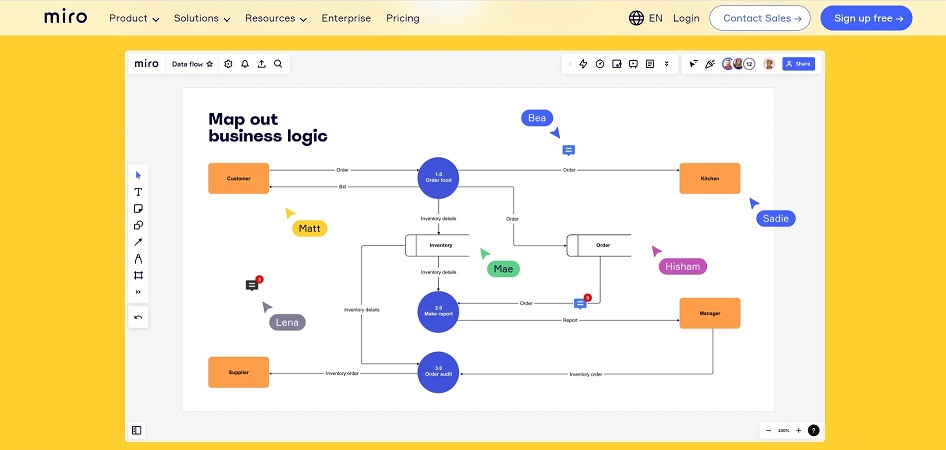 Miro's prebuilt templates make it even more appealing, catering to everything from flowcharts to product roadmaps. This fantastic feature saves me valuable time, allowing me to focus more on creating and less on formatting. With alternatives like Mural and Whimsical, Miro still stands out as my go-to digital whiteboard option for all my UX writing needs.
4. User Interviews: Hassle-Free Participant Recruiting
User interviews are a game changer when recruiting research participants for our UX projects. Gone are the days of struggling to find the right people for our studies, as this platform takes the hassle out of the entire process. With a pool of participants ready to go, we all have to set our screening criteria, launch the study, and watch the applicants pour in.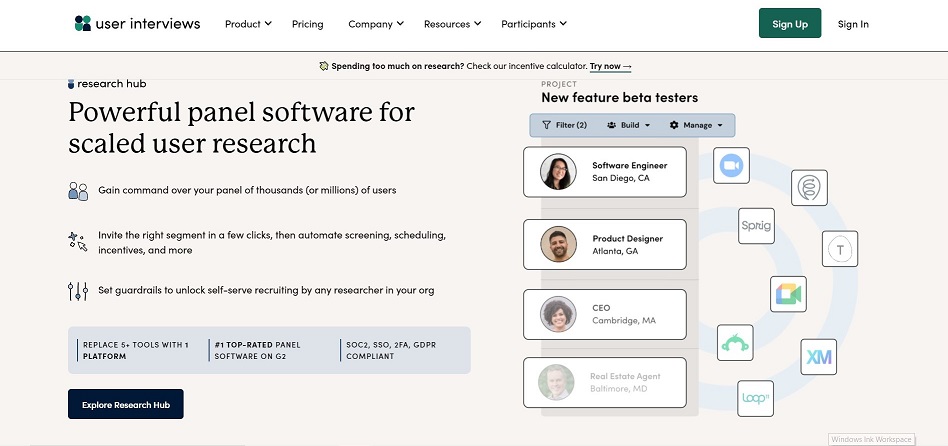 Thanks to the flexibility of their screener, we can target highly specific demographics or even recruit participants representative of the general population. User Interviews handles all the nitty-gritty details, from confirming interviews and managing calendars to providing Zoom links and even distributing Amazon gift cards as incentives for our participants.
What used to take days or weeks now only takes hours, ensuring that we involve users at every stage of our design process without any hiccups. It's a must-have tool for any UX writer!
5. MarkUp: Facilitating Conversation and Feedback
Markup is an incredibly useful tool that has been a lifesaver for me regarding facilitating conversation and gathering feedback. This easy-to-use platform allows you to annotate web pages or design files, making it simple to share your thoughts and collaborate with your team.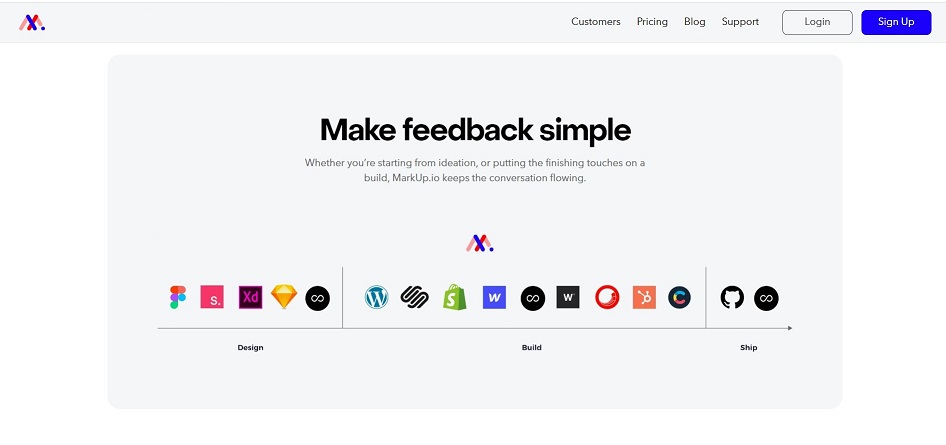 What I love most about MarkUp is how its clear and efficient communication system helps to avoid misunderstandings that can typically arise with email exchanges or meetings.
It's the perfect way to keep everyone on the same page and ensure that feedback is incorporated in a timely and organized manner. If you haven't tried it yet, give MarkUp a go!
6. Hotjar: An Essential Feedback Collection Tool for Web Content
Hotjar is an essential tool that I enjoy using to collect valuable feedback on published web content. With just a single line of code, Hotjar gives me access to crucial insights like heatmaps, screen recordings, and survey results.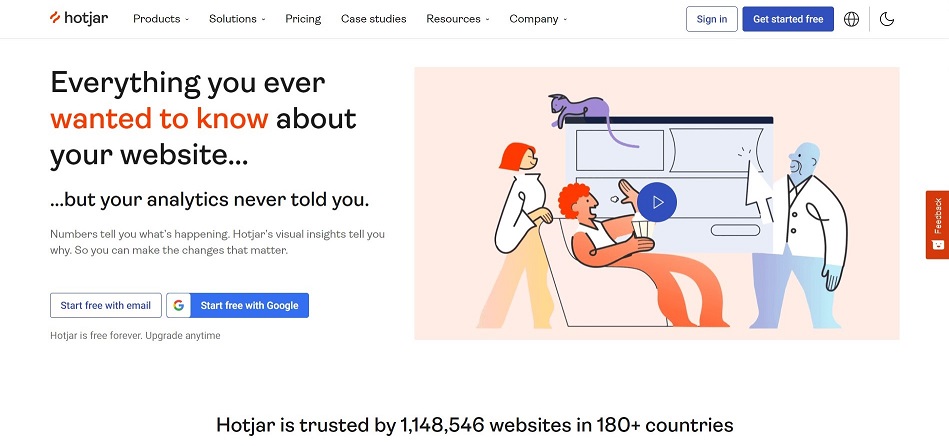 It's amazing to see how users engage with the content, and I've found metrics such as scroll depth and click counts extremely helpful.
One great alternative to Hotjar is Crazy Egg. Both tools offer fantastic insights into user behaviour and help me create an engaging and user-friendly experience for my audience.
From a UX writer's perspective, having these tools in my toolkit has made all the difference in fine-tuning my web copy for maximum impact.
7. OptimalSort: A Powerful UX Research Tool for Information Architecture
OptimalSort is a fantastic UX research tool I rely on for refining information architecture. It helps me create and execute open or closed card sorting exercises, which I share with my users, providing valuable insights into their thought processes.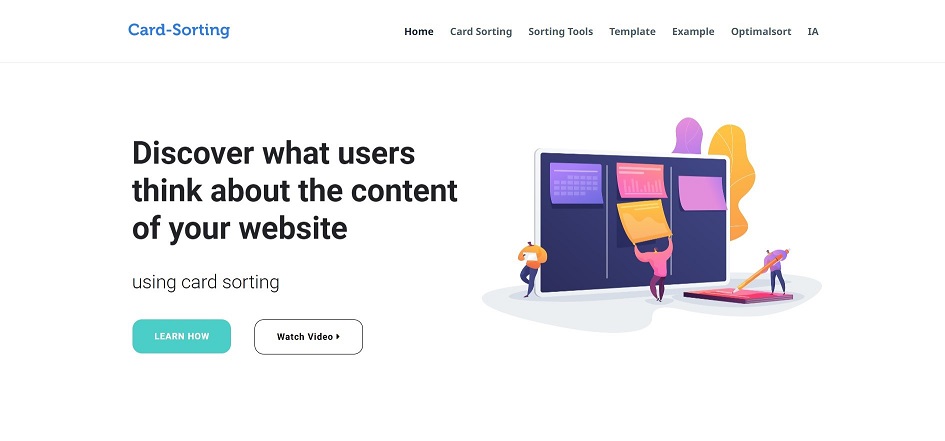 This tool makes it super easy to capture analytics and auto-generate time-saving reports!
Moreover, Optimal Workshop, the company behind OptimalSort, offers other tools to help fine-tune my information architecture design. They've got tree testing and first-click testing tools that complement and enhance my UX research toolkit.
OptimalSort has truly become a powerful ally in my UX writing journey.
8. Maze: Unmoderated Testing with Prototypes
Maze is an incredibly valuable tool for UX writers who want to run unmoderated tests with their prototypes. Compatible with major prototyping tools, Maze allows you to gather insightful user feedback quickly and efficiently.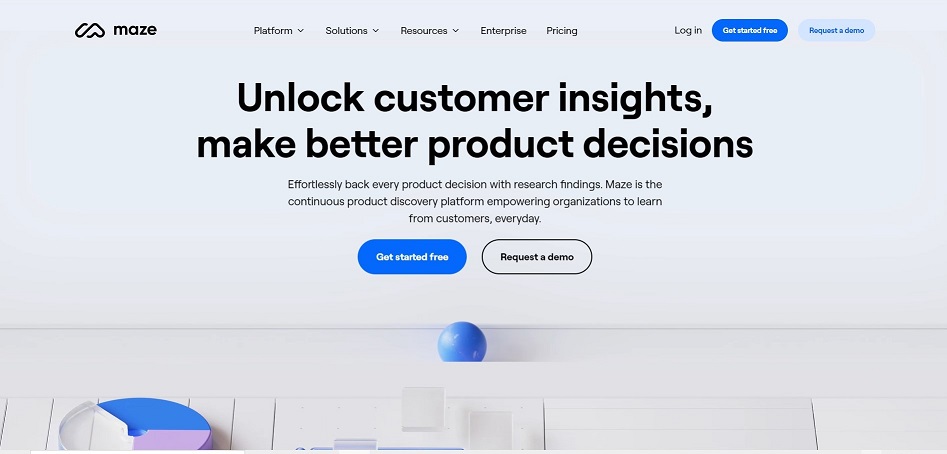 What I love about Maze is how it helps me identify potential issues and areas for improvement in my UX writing, ensuring our website or app is as user-friendly as possible.
One of the best features of Maze is its ability to generate actionable reports based on user data. As a UX writer, these reports enable me to make data-driven decisions and iterate on our content to provide a truly engaging experience for our users.
In the ever-evolving digital landscape, having a tool like Maze in my toolkit is essential for staying ahead of the curve and delivering outstanding UX writing.
9. Whimsical: A User-Friendly Flowchart Tool
Whimsical is truly a lifesaver for UX writers like me. With its user-friendly interface and intuitive design, creating flowcharts has always been challenging.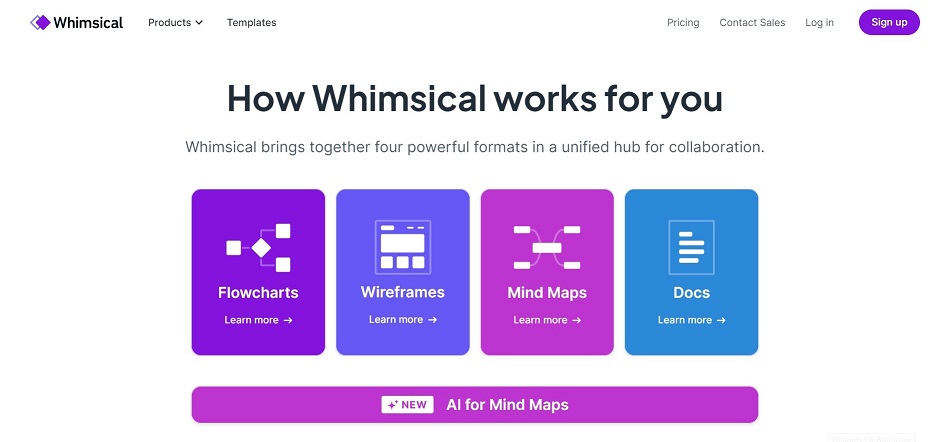 I love the built-in templates, the streamlined shapes, and the simple drag-and-drop function that makes organizing my thoughts a breeze.
I also appreciate the real-time collaboration feature that allows my team to work together effortlessly. We can exchange ideas, provide feedback, and make edits on the fly, ensuring smooth communication and efficient work.
If you have yet to try Whimsical, I highly recommend it. Your flowchart-making experience will always be different, and I'm sure your UX writing process will greatly benefit from this fantastic tool.
10. Figma, Sketch, and XD: The Battle of the Top Design Tools for UX Writers
As a UX writer, I have encountered many design tools that promise to make my job easier. But after trying out a few, I've found that Figma, Sketch, and XD are the top contenders in the Battle of the Top Design Tools for UX Writers. Let me break down what sets these tools apart.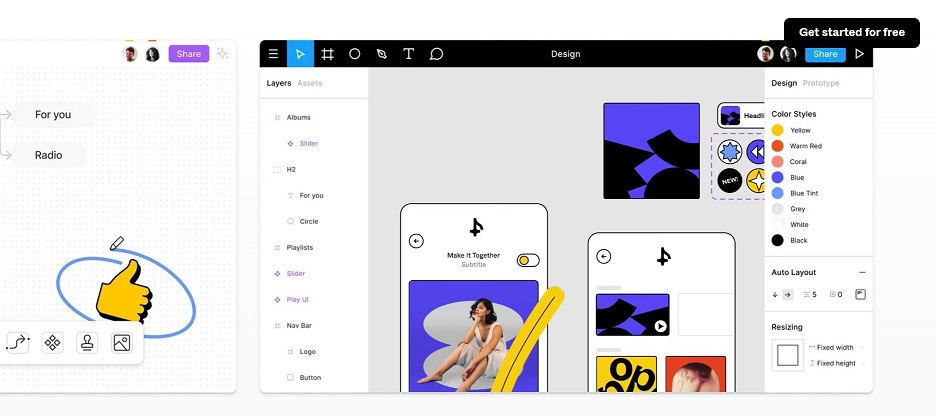 Figma is a web-based tool that offers great collaboration features and requires no installation. Sketch is a Mac-only app famous for its user-friendly interface, making it a popular choice among experienced designers.
Adobe XD is also popular for its cross-platform compatibility and seamless integration with other Adobe products.
Each design tool has unique features, and choosing one ultimately depends on your preference or team requirements. Whichever you pick, all three tools have proven to be great assets for UX writing projects.
Be a better UX writer with the best tools for UX writing.
As a UX writer, I'm always looking for new tools that can help me improve my craft. And trust me, I've found some absolute gems along the way.
One such treasure is the Hemingway App, a fantastic tool that helps me keep my writing clear and concise. It's great for spotting complex sentences, adverbs, and passive voice, which all detract from the user experience.
Another nifty tool I love is Readable. It's brilliant for checking the readability of my text and ensuring that my audience can easily access my content. Conversely, Fortitude is a lifesaver for managing UX copy and collaborating with visual designers.
And who can forget the versatility of Miro? It's a digital whiteboard that offers endless possibilities for UX writing.
Of course, I need to pay attention to the importance of user interviews and testing. Tools like User Interviews and OptimalSort help me gain valuable insights from my target users, while Hotjar provides invaluable data on how visitors interact with my site.
Finally, tools like MarkUp and Maze help me streamline the feedback process and catch issues before they become problems. These tools have made me a better and more efficient UX writer, and I'd highly recommend them to any fellow writer seeking to up their game.