Are you looking for a solution to the high bounce rate problem on your landing page? In 2018 when I was started to work as an affiliate marketer and faced the same problem.
High bounce rate is really annoying for bloggers and affiliate marketers which may demotivate you.
After so many experiments finally, I found the ultimate solution how to reduce the bounce rate on the landing pages. This tip helps me to reduce my bounce rate from 85% to 55%
In this post we all learn about this tips and apply on our blogs and landing pages.
Things You Need to Know About Bounce Rate of Landing Page
Do you know almost 90 percent visitors bounce from average post click landing page.If a visitor click on your post /landing page and immediately press the back button before reaching the thank you page for your landing page than its create bounce .
Bounce rate means the number of single-page seasons with respect to the all-season of your web page. Okey, I make it simple for you.
Let us assume, 100 people visit your post or landing page. if 60 people leave the page before opening a single page then the bounce rate of your landing page will be 60%.
Bounce Rate Is Good Or Bad ?
A bounce rate is good vs bad it depends on various factors. Sometimes it is a good user experience for those who write blogs like me.
You are reading my post because you want to know the solution to the bounce rate of your landing page. That's why many of you are not interested to read my other SEO article for landing pages. Right.
So in this process, after you get the solution to your problem, you will leave my site by creating a bounce rate with a good user experience.
On the other hand for your landing page if any user leaves your page immediately without reading the content and giving the data ( emails, phone number, etc) is a bad user experience. for this, you have to work to reduce your bounce rate.
Below I am sharing the tips that definetely works for you.
How to Reduce Bounce Rate On Landing Page
The whole post is mainly for the how-to keep the visitor on your landing page so that your landing page has a low bounce rate and it will create a good user experience.To do this we need to know about the root cause and the solution for that.
Cause And Solution For High Bounce Rate on Landing Page
Here we will discuss the cause of your high bounce rate landing page with the possible solutions for this.
1.The post-click landing page on your website is confusing.
One of the main cause is your landing page is not the good source of information or data what user is looking for. For example, you have generated ads with social media like Facebook, youtube, etc and the viewer enters the landing pages by expecting his need you have shown on the ads. But there is something different from the ads.
May be you didn't want to mislead or confuse them but it happens accidently. What is the solution for this
Here is the solution–
The first goal of your post-click landing page should be to fulfill the visitor's expectations. If someone clicks on a link on your social media page that says, "How To Create A Landing Page With ClickFunnels Landing Page Maker," the headline on your post-click landing page should say, "How To Create A Landing Page With ClickFunnels Landing Page Maker Best Tips You Should Follow." rather than another title.
Your logo, brand colors, and even photos from the corresponding ad should all be included on the website.
Example of good landing page is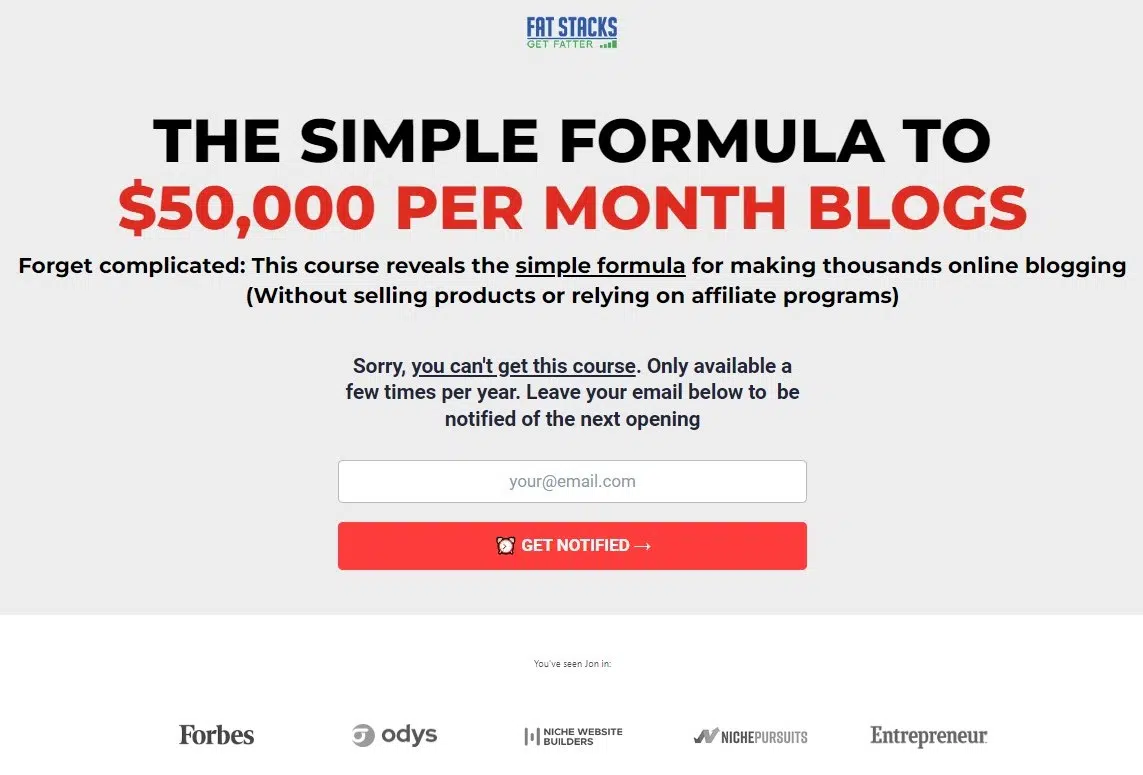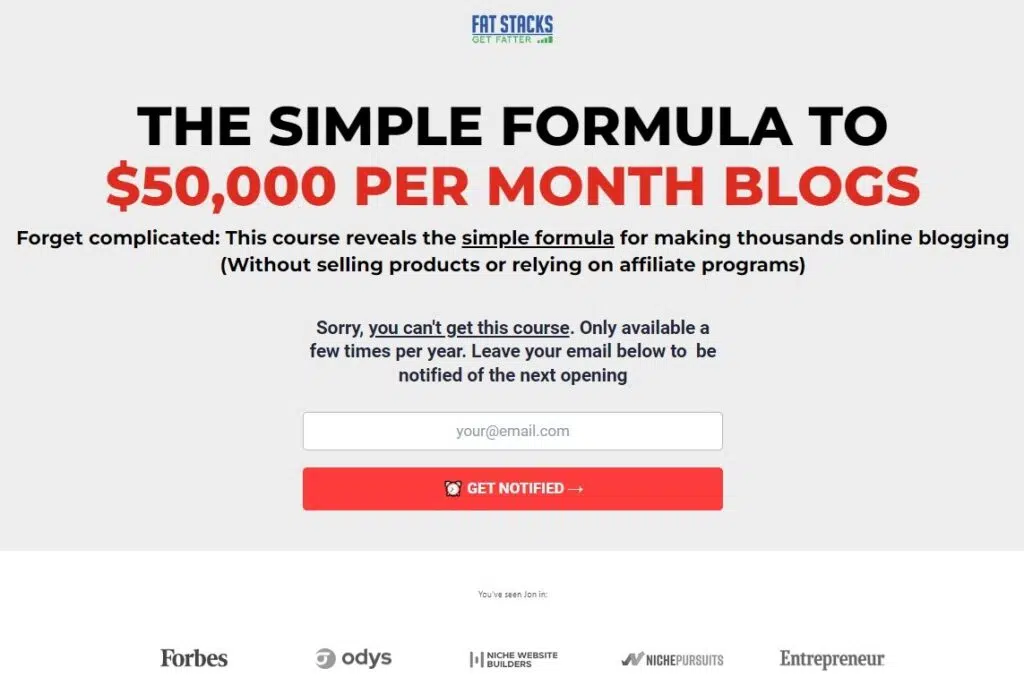 This image is from fatstacksblog Landing page
2. Your form is Causing Disruption
The form you are generation may cause disruption which may take negative effect on your customer or visitors. An intrusive filed on your form force your many visitor to click the back button.
Here is one of the perfect example you should avoid.
Do you fill the form for organic traffic? Really?
Okey what is the fix ?
To fix this issue you have to avoid unnecessary data collecting fields from your form. Your form should be built on solid information and it should be very easy to fill up with fewer data.
Most of the visitor hate to fill up the data for more than 5 blocks. Compare with yourself!
3. Your page is very slow
I have seen most of the landing page is much slower than a blog. Because most people make it with much animation and design with photos they think it is super cool but it creates your page more time to load.
According to google the bounce rate increase is directly proportional to your page load time.More the page load time more will be the bounce rate.Because it creates bad user experience
So How to Fix Slow loading page?
There are many tips to follow to make your landing page mast faster than before.Here are the tips-
Compress image of your landing page
Remove unnecessary script
Do not use auto video playing button
Do not add extra animation effect
Make your page simple to read
This will help you to make your page faster to load.
4. Generating wrong traffic
Are you expecting to get leads with wrong traffic?
One of the possible causes of the high bounce rate is that you are generating the wrong traffic to your landing page. To increase the leads sometimes most the people target wrong viewers by ads campaign to their landing page which is root cause for this problem.
To avoid this you have to learn to make how to generate ads campaign to get more leads.
5.Call to Action on your landing Page is In Wrong Place
The main purpose of your landing page is the direct a user to your call-to-action button or link. To make a sale or inquiry you need to place a call-to-action button on your page. If you place it in an area where most visitors are unable to see this then it is not a good for your page.
Try rewording or repositioning the call to action if it isn't engaging guests or viewers. Examine how the customers perceive it and whether it is providing them with the knowledge they need.
6. Bad Design With Bad User Experience
You have done all the steps or you have passed all the points I have discussed before and you still looking for the cause of your bounce rate problem then ask yourself is your landing page is well designed or not?
Does it have a good UX design? If not, first design your page with very simple but clear buttons which is visible to users. Do not use so many colors for most of the texts.
7. You used copied content or Content which is unable to read
To succeed in your works, you should do your best. Okay, you can take ideas from your competitors but do not copy them.
Or if you are using a very hard word with wrong grammar usage in your page which is unable to understand in one read then you should correct this.
the question which tool I use to check for Grammar or readability?
There are a lot of tools on the internet right now but I personally use grammarly and hemingwayapp
8. You Dont Open External Links in a New Tab or Window
this is so simple or ultimate tip to reduce your bounce rate like magic. Most of the users don't know this and they use to open the external links on the same tab.
Try to make the habit from now, whenever you make an external link force it to open on a new window.
This would help you to decrease your page bounce rate problem. Any questions running through your mind about the landing page you can ask in the comment section. I will like to help you.