If you are looking for a Photography Website design guide then you've come to the right place.
Maybe you are an aspiring photographer looking to showcase your work on a professional-looking website? Or are you an experienced photographer looking for a more affordable and flexible platform to showcase your portfolio? In this ultimate guide, we will show you how to make photography website using WordPress, the world's most popular blogging platform.
This step-by-step guide will help you create an attractive and dynamic wordpress photography website that will attract new clients and showcase your talent to the world. So let's start by finding out how easy it is to create a site with WordPress.
What is a photography website?
A photography website is a platform where photographers can showcase their work and build their brand online. It is a collection of websites that showcase a photographer's portfolio, galleries, and blog posts. The website should represent the photographer's unique style and aesthetic to attract potential clients and fans.

A photography website should also offer important features such as easy navigation, fast load times, mobile-friendly design, and social media integration. Creating a website can help photographers reach a wider audience and establish their online presence
Step 1: Selecting a reliable domain and hosting
Choosing a reliable domain and hosting is essential for any website, especially for photographers who want to showcase their work online. The domain is your website's identity on the internet, and it's important to choose a name that is easy to remember and fits your brand.
Some best sites to buy a domain for a photography site.
For hosting, we recommend starting with HostGator, which offers an exclusive 57% discount. This rate is ideal for beginners and will save you money while providing you with high-quality support and resources. Once you've decided on a domain name and hosting, you can move on to the next step and create your photography website in WordPress.
Step 2: Choosing a WordPress Photography Theme
The right WordPress photography theme is crucial to creating an outstanding website. You should look for a theme that highlights your photos and offers multiple gallery options, so you can showcase your work in different ways.
It is important to choose a theme that best suits your style and niche, whether you are a wedding or landscape photographer. You can find several themes with e-commerce integration if you want to sell your photos online. Before making a final decision, you should also check for recent updates and read reviews.
These 3 theme works great for photography wordpress sites,
| Photography Website Theme | Site |
| --- | --- |
| Astra | Check |
| GeneratePress | Check |
| Pinhole | Check |
In this article, we suggest you use Astra wordpress theme because it has so many customisation options regarding other themes.
Step 3.1: Installing and activating the Astra theme
Astra is a lightweight and easy-to-use theme for beginners has hundreds of pre-made templates and is SEO-compatible, so the website will rank well in search engines. To install and activate the Astra theme, simply go to
Appearance> Themes> Add New 
in the WordPress dashboard and select Astra. With this theme, you have access to multiple layout options and can customise your website's design without touching a line of code. Astra is a good choice for anyone who wants to create a beautiful and functional photo website.
Step 3.2: Customise your website
Once you have installed and activated the Astra theme on your WordPress website, it's time to customise it. One of the main advantages of Astra is its flexibility and ease of customization. You can change various elements of your website, such as the header, footer, menu, and typography, with just a few clicks.
Astra offers extensive customization options, but keep in mind that your website needs to remain clean and simple. You want to keep your photography front and centre, not clutter it with unnecessary features. Consider customising the colour scheme and typography to match your brand or personal aesthetic. Remember, your goal is to create an attractive and user-friendly photography website.
Required features of a photography website
When creating a photography website, it must have the necessary features to make it visually appealing and easy to navigate. Below we are discussing some features that must be available on your site.
Loading time
Loading time is a crucial factor when it comes to creating a photography website. No one wants to wait for a website to load, especially if it contains high-resolution images.
According to studies, a website that loads in two seconds has a 9% bounce rate, while a website that takes five seconds or longer to load has a 38% bounce rate.
To avoid losing visitors, it is important to optimise the website and images so that the photography website loads quickly. A website that loads faster also helps search engine optimisation and increases user engagement.
You can check your website loading speed with this free tools and sites.
Simple Navigation
Easy navigation is crucial for any website, especially a photography website. Visitors need to be able to find what they want quickly and easily without getting lost in a complex navigation system. Having clear and concise labels for each menu item can make all the difference when it comes to providing a seamless user experience.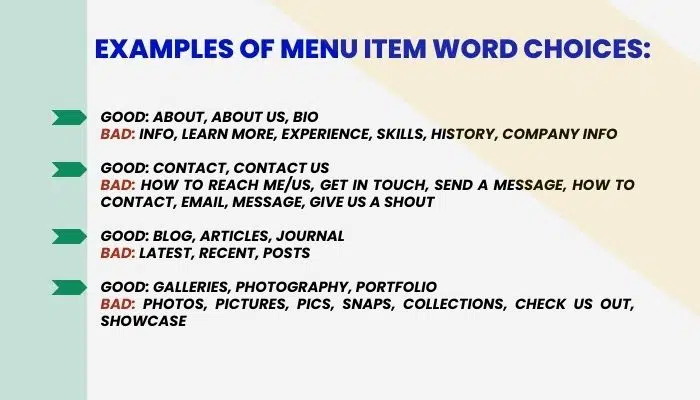 In addition, a search bar can help users easily find specific content. A well-designed navigation system can increase engagement and decrease bounce rates, ultimately leading to a successful photo website.
Compatibility
Compatibility is one of the most important features that any photography website should consider. It is so important because you want everyone, regardless of their device or browser, to be able to easily access and explore your work. It's disappointing to have a great website that can only be viewed on certain devices or browsers.
For this reason, a mobile-friendly design is a great place to start. A website that supports different devices and browsers will ensure that visitors don't miss the opportunity to admire your artwork. Therefore, it is crucial that your website is compatible and provides an excellent user experience.
Mobile-friendly design
With more than half of all internet users browsing on mobile devices, a photography website needs to be accessible on all popular devices. This means that the website must have a responsive design where all images, text, videos, and links work perfectly on smaller screens.
If the website is not mobile-friendly, it could lose potential customers and fans who are on the go. So, make sure you choose a WordPress theme that works seamlessly on mobile devices and offers a great experience to the widest possible audience.
Check Your Site For Mobile Friendly Here
A beautiful portfolio and gallery
When it comes to creating a photography website, a beautiful and eye-catching portfolio and gallery are essential. Your portfolio and galleries are where your work shines and attracts the attention of potential clients.
A well-designed gallery with high-quality images can make a difference in getting hired for your next photography job. Consider using a theme with more gallery options and features that allow you to optimise images for fast load times and mobile accessibility. Don't forget the importance of social media integration, which makes it easier to share and promote your work.
Social media integration
Social media integration is crucial for any photography website. If you provide social media sharing buttons on your website, your visitors can easily share your beautiful images with their friends and followers. This is a great way to increase your website's exposure and attract more visitors.
The ability to display social media feeds on your website also allows visitors to interact with your content in a variety of ways, adding an extra layer of interactivity to your online presence. With plugins like Sassy Social Share, you can easily add social sharing buttons and custom social media feeds to your WordPress photo website.
Note: Again for a small reminder that if you are using the Astra theme then you need not think about this feature because the theme has already included this feature. For social media integration, we use a plugin that is mentioned below.
Useful Plugins to improve your photography website
To make your photography website stand out from others, you need some essential plugins. With these plugins, you can create a stunning website that showcases your photography in the best light.
WP Portfolio: a plugin for portfolio creation
WP Portfolio is a revolutionary plugin for anyone who wants to showcase their creative work in the best possible way. With its pre-made templates and customization options, this portfolio creation plugin can showcase your skills and achievements in a visually appealing way.
WP Portfolio has the right tools to create a beautiful portfolio that accurately represents you and your work. Thanks to its user-friendly interface, you can add your best projects, customise layouts, and publish them online in no time. So, if you want to impress potential clients and get more orders, WP Portfolio is the plugin for you!
Schema Pro: SEO Schema Plugin
Schema Pro is an excellent WordPress plugin that provides a hassle-free solution for implementing schema markup on your website without any technical knowledge. This plugin adds Google Rich Snippets markup to structure your website for SEO according to Schema.org guidelines. With more than 35 schema types, including Local Business, website, and Video Object, you can choose the most suitable one for your needs.
Schema Pro also lets you exclude or include any post, page, or post type, recognising the content based on the data type option. All in all, Schema Pro is an essential plugin for any website owner who wants to improve their web presence and SEO.
Fluent Forms: a plugin for contact forms
Fluent Forms is a powerful and flexible contact form plugin for WordPress that offers a customizable drag-and-drop interface and all premium features, as well as many unique additional features. It allows you to create exceptional forms in minutes, making form creation fast and effortless.
With Fluent Forms, you can create contact forms, signup forms, or any other type of WordPress form you need for your website in just a few minutes. It offers deep integration with a variety of third-party CRMs, email marketing tools, and payment gateways, making it an ideal solution for businesses looking to simplify their marketing and lead-generation activities.
Sassy Social Share is a social network sharing plugin.
If you are looking for a social sharing plugin that is easy to use and visually appealing, Sassy Social Share might be the one for you. With support from over 110 social sharing and bookmarking services, you can ensure that your content reaches a wider audience.
The icons are also scalable and optimised for high-resolution screens, so your website visitors will have the best experience possible. Plus, it's a free plugin with customizable options, making it an affordable solution for any website owner.
WPRocket: Speed Plugin
If you are looking for a quick and easy way to speed up your website, WP Rocket might be for you. This powerful speed plugin offers several features to optimise your website, including caching, minification, and lazy loading. With WPRocket, you can easily improve page load times and boost the overall performance of your website.
This tool is easy to use even for beginners, making it a great solution for both experienced developers and those who are new to website optimisation. So, if you are looking for a quick and easy way to improve the speed of your website, you should try WP Rocket.
Conclusion
In conclusion, creating a free photo website with WordPress can be a rewarding experience. From choosing a reliable domain and hosting to customising the site with the necessary features and plugins, you are just a few steps away from showing the world your beautiful work.
Remember that a good photography website should be fast, mobile-compatible, and easy to navigate, with a beautiful portfolio and social media integration. With the Astra theme and various plugins, you can create a unique and stunning website that won't disappoint. Start sharing your passion with the world today!