Are you looking for a full good on how to start blogging in 2023? If yes then you are in the place where you have to be. Because in this article I am going to give you full information about launching a money-making blog in 11 steps.
Do you already know the scope of blogging and its potential shortly? It is a good way of earning money online by just sitting at home. And if you also want to earn money from blogging then this whole article is dedicated to you only.
Here I want to tell you one thing if you don't do it properly or if you do mistakes then there is no chance that you are going to be successful. So I request you to read this whole article. Then you get a proper idea to start blogging and earning a good amount of money.
What's the point?
Have you ever considered starting a blog? If so, you're not alone. Many people dream of having a creative outlet that allows them to share their passions, experiences, and knowledge with the world. But before diving into the blogging world, it's crucial to ask yourself, "What's the point?" What motivates you to put your thoughts and ideas out there for others to read and engage with?
The point of starting a blog was to inspire others to travel, explore new cultures, and live adventurous lives. I am sharing my experiences and advice on making the most of every journey. I also wanted to create a space to connect with like-minded people with the same interests and passions.
But your "why" might be different. Maybe you want to start a blog to document your personal growth, educate others about a topic you know about, or entertain people with captivating stories. No matter your motivation, having a clear purpose behind your blog is essential.
Remember, blogging can be a lot of work and might require much time and effort before you start seeing significant results. Understanding your "why" makes you more likely to stay committed and motivated throughout the process. So take the time to think about your purpose for blogging and let that guide you in creating a successful platform that adds value to your life and your readers' lives.
This muster guide on blogging gives you detailed information about these topics-
11 Tips to follow before Starting a Blog In 2023
I think this thing makes you so excited to know more about blogging. So without any delay let's jump to the topic.
1. What is blogging?
Blogging is a kind of publishing your knowledge, experience and information in the form of articles through a website. For that, you need a blogging website. On there, you share your article with the whole world.
And when your blog becomes love on the internet people come to your blog to read the articles that you write. You can start blogging on any topic that you want. You can share your professional experience or you can write about any particular topic that you have an interest in.
And if you give good and useful information to your readers then people use to come to your blog regularly and you can make money from it.
So basically if you have an interest in writing or you want to share your experiences, and knowledge with the whole world that you just need to start a blog.
Here are some more points that why you need to start a blog?
2. What do you need to start a blog?
If you love writing or want to share your knowledge or experience with the whole world then this will be the main reason for you to start blogging. Along with that here are more points that help you to decide on starting blogging.
A. Working from home.
If you want to earn money just from your home then this is one of the best ways to do it. You can start a blog from your room.
You just need good Internet access, a laptop or PC. You just need to give your 2 to 3 hour daily and after a few months, you can earn money from your blog.
B. Brand identity
If you are owning a brand or company then starting your own is very important for you. If you start it then you can promote your products through your blog. It will become a plus point for your business.
C. Expertise in subject
If you have proper knowledge in any particular topic or field then you can start your blog to share your knowledge through your blog. So many people get benefits from your blog and along with that, you can make money from it.
D. Earning money
If you properly run your blog then soon it will become a good earning source for you. You can monetize your blog through ads and other brand affiliations and you earn a good amount of money.
3. Choose your Blog name and Buy a domain.
Step 1: Brainstorm Blog Names
Start by brainstorming a list of potential blog names representing your brand and message. Consider names that are catchy, easy to remember, and relevant to your niche.
Step 2: Choose Your Ideal Name
Narrow your list to a few top choices, and consult with friends or family for feedback. Ultimately, choose the one that resonates with you the most.
Step 3: Choose a Domain Registrar
Research different domain registrars to find the one that suits your needs and budget, then sign up and follow their instructions for domain registration.
Step 4: Check Domain Availability
Visit a domain registrar website like GoDaddy to check if your desired domain name is available. If not, try variations of your chosen name or consider using different extensions, such as.net
Step 5: Purchase your domain.
Once you've found your perfect domain, go ahead and purchase it! You'll need to pay an annual fee to maintain ownership, but it's a small investment for your blog's success.
Now that you've chosen your name and domain, you're one step closer to launching your successful blog! Keep working through the remaining steps in our guide to building your online presence.
Now start the main part what do you need to make blogging??
Ok, the answer is .
A Domain (You need to buy)
Hosting (You need to buy)
Theme (Additional)
Plugin (Additional)
Choose Your Website Host
Starting a blog with Bluehost is an easy process. First, head over to Bluehost and choose your preferred hosting plan. I recommend the Basic plan for beginners, as it's affordable and offers all the essentials to get you started.
Next, select a domain name for your blog. With Bluehost, you get a free domain for the first year, so pick something that reflects your blog niche and is easy to remember. If you already have a domain, enter it during the signup process.
Now, create your account on Bluehost by providing your details. Select the desired billing cycle and uncheck any additional services you don't need at this stage.
Once your account is set up, log in to your Bluehost dashboard and click 'Install WordPress.' Follow the simple instructions to install WordPress on your chosen domain. This will be the platform for building and managing your blog.
Finally, log in to your WordPress dashboard, select a theme, and customize your blog. You are now ready to begin creating and sharing content with the world.
3. How to select the best hosting and domain name?
Hosting and domain are very important for your blog. The domain is the name of your whole Blog and hosting is the storehouse of your content. Here is the best hosting process that you can use.
Hostinger.com
GoDaddy.com
A2hosting.com
Bluehost.com
Here are some websites from where you can buy a domain name for your blog.
GoDaddy.com
BigRock.in
Hostinger.com
Namecheap.com
Google domain
(I suggest you make sure about the niche before buying a domain name)
4. How to find out the perfect niche for your blog?
Find out the perfect niche for your blog is very important. But why do you need to choose a niche?
It is because, in today's date, there are so many bloggers in the intent. So if you start your blog then you need to face huge competition in ranking your blog.
So if u choose a particular niche then it becomes easier for you to rank your blog in search engines.
And also you can focus on a particular area and you can sage in-depth information about that. Which you can't do easily if you target a larger field.
5. How to select your niche?
You can select your niche based on two things. They are your interest and the completion of the number of the blog in your internet field.
So you have bought a domain and a hosting
Now it's time to set up your site. (Here I am using hostinger webhosting. if you have bought other hosting the major process will be the same but something different as per the UI of different hosting sites)
Go to your hosting panel and click any option as shown in the image below.
We are going to create a blog hence we click the blog option here.. after follow the process as per your need..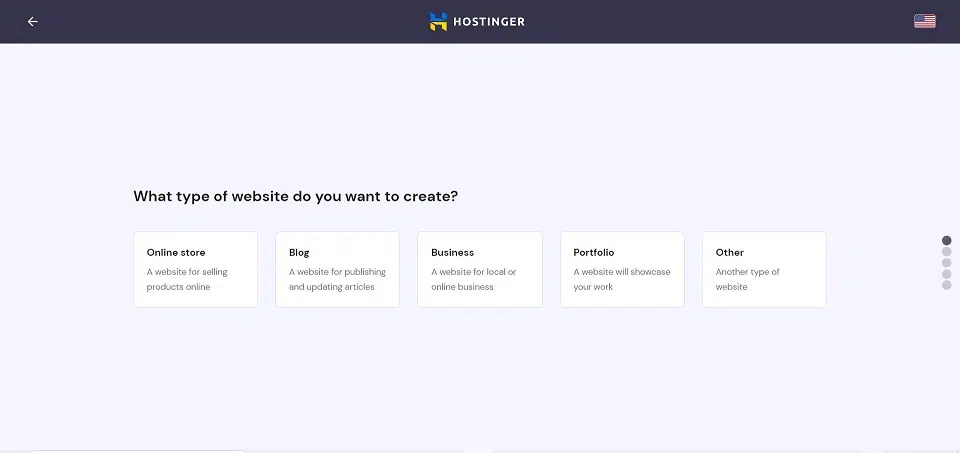 Then you have to install WordPress in your hostinger panel…
Go to Website>Auto installer where you can see the WordPress logo. simply click on that and install WordPress.
Enter your admin username and password and continue with the other process.
Next, you have to install a theme. There are plenty of WordPress themes you can choose but we suggest you install a lightweight SEO-ready wordpress theme like generate press. (We are currently using it)
Then customize your theme by uploading your blog logo, and create some pages like about us, privacy policy, disclaimer etc.
You can start writing your first blog post now.
Setup Your Blog and Plugins
Setting up your blog and installing plugins is a simple process that ensures a smooth and efficient blogging experience. First, choose a blogging platform such as WordPress or Blogger and sign up for an account. Once you've selected a theme and customized the appearance, go to your platform's "Dashboard" or "Admin Panel."
Now, click "Plugins" or "Extensions" and search for relevant plugins that suit your blog's needs. Some essential plugins include those for SEO, security, and social media. Install and activate the plugins, then customize the settings to your preferences.
Lastly, create and publish your first blog post and engage with your audience.
Install a custom theme for WordPress.
Starting a custom theme on your WordPress blog is a fun and creative way to make your site stand out!
Follow these simple steps to get started:
Head to your WordPress dashboard and select the "Appearance" tab on the left.
Next, click on the "Themes" option to see a variety of available themes.
Click "Add New" at the top of the page to search for a specific theme or browse the available options.
Once you've found a theme, click "Install" to add it to your site.
After installation, click "Activate" to make the theme live on your site.
That's it! You've now installed a custom theme for your WordPress blog. Feel free to experiment with different themes to find the perfect one representing your unique vision and brand
6. How you can earn money from your blog?
There are so many ways in which you can earn a good amount of money from blogging. I already wrote a blog on it. You can check this out for better knowledge. Here it is
These are the most powerful ways that you can use to earn money from blogging.
Using Adsense ads.
Using Affiliate Marketing.
Giving Sponsored post
Doing Native advertising.
Selling your e-book
Launch your online course.
Do Sponsered Reviews
Run campaigns for brands.
Provide services
7. How to do keyword research?
A perfect keyword is very important for the success of your blog. Because Google shows results to the visitors based on keywords. So you need to focus on that.
Here are some most useful tools that you can use for keyword research.
SEMrush
KWFinder
Ahrefs Keyword Explorer
Google Keyword Planner
GrowthBar
Long Tail Pro
Majestic
Keyword Tool
Serpstat
8. How to do proper SEO?
SEO is the most important thing just after keywords. Because if you use keywords but don't use them properly in the right place or the right amount then your blog doesn't get any traffic. So along with that, you need to focus on SEO also.
Here are some most useful SEO tools that you can use for your blog.
Ahrefs: SEO Keyword Tool
Google Search Console: Top SEO Tool
SEMRush: Marketing SEO Tools
KWFinder: SEO Keyword Tool
Moz Pro: SEO Software
Ubersuggest: Keyword Tracking Tool
Answer The Public: Free SEO Tools
SpyFu: Free SEO Tools
Woorank: SEO Ranking Tool
Majestic: Marketing SEO Tools
9. How to get organic traffic?
How to get traffic is a major topic for a new blogger. Because at this time they just start their blog and they have no audience. So for getting more traffic at the initial time, you have too a little bit more hard work.
For getting the traffic you need to share your blog with all of your friends and family members. And you need to share this on all social media platforms.
It is tough at the start but after a few days if you follow all the steps that I mention your blog will rank on the Google search page and it gets organic traffic.
10. How to promote your Blog?
Well, it is important to try to get organic traffic at the starting time. But it's quite hard. So to solve this problem you can start the promotion of your blog. You can run ads on Google, Facebook, Twitter and other social media platform.
Another way is you can collab with a successful blogger and asks them to promote your blog. And you need to pay for them.
But by doing this you get good traffic and after that, you can earn money from it. So if you don't get organic traffic at the initial time you can use this method.
11. How to convert it into a business?
If your start blogging just for your passion or interest or want to share knowledge or experience then it is ok. But if you do it for money then it is very important for you to expand it into a business.
Because then only you can earn good and big amount of money. For that, you need good traffic which you can increase by using the above technique. And you need to hire professionals for that.
Like a content writer, proofreader, graphic designer, coder, and manager. You need to think like a businessman. Then you can convert it into a business.
Create, create, create.
Embarking on the journey of creating a successful blog can be both exciting and rewarding. It all starts with finding your passion—the one topic you can't stop talking about that truly excites you. Once you've discovered that, you only need a little persistence and determination.
When you decide to start a blog, treat it as if you're starting a new business. With careful planning and marketing strategies, you can create a platform that reaches a wide audience and can also be a source of income for you. Remember, you don't have to be an expert in your chosen field; you must be passionate and eager to share your experiences with the world.
When it comes to creating your blog, there are a variety of platforms and templates to choose from that can help you design a blog that suits your style and needs. Once your blog is up and running, the fun begins! Sharing your thoughts with the world can be a thrilling and rewarding experience as you watch your readership grow and engage with your content.
Finally, as you gain more recognition and traffic, there are several ways to monetize your blog, turning your passion into a lucrative venture. With dedication, persistence, and creativity, you'll be well on your way to crafting a successful blog that keeps readers coming back for more and allows you to share your voice with the world.
Building a strong social media presence is crucial when starting a blog. Having accounts on platforms like Instagram, Facebook, Twitter, and YouTube allows you to reach a wider audience and engage with your readers more personally.
Start by creating and customizing your profiles on these platforms. Ensure to include a profile picture, a cover image, and a short bio showcasing your blog's mission. Don't forget to include a link to your blog so people can easily access your content.
Posting consistently on social media is essential to staying relevant. Share your blog posts, images, and videos while engaging with your audience through likes, comments, and shares. Be sure to use hashtags and tag relevant accounts to increase visibility.
Remember that building a social media following takes time and effort, but it ultimately pays off by driving traffic to your blog and fostering a loyal community of readers.
Invest in your passion.
Are you interested in turning your passion into a profitable blog but don't need help figuring out where to start? Let me share my experience and guide you through the exciting journey of creating a successful blog.
It doesn't matter if you're passionate about travel, fashion, or gaming—you can profit from what you love if you're willing to work hard and stay persistent.
First and foremost, ask yourself why you want to start a blog and what your ultimate goal is. Being clear about your intentions will help you stay focused and motivated on the path to success. Your passion will be the driving force behind creating engaging and authentic content that readers will connect with.
When you're ready to start, choose a catchy and descriptive name for your blog that reflects your passion. Register your blog, find a reliable hosting provider, and select a visually appealing template that works well for your niche. From there, it's time to dive into the creative process by producing high-quality content that shows your unique perspective and expertise.
Once your blog is live, promote it effectively and engage with your audience across different social media platforms. Monetize your blog through various methods, including sponsorships, affiliate marketing, and ad revenue. As you grow, adapt to the ever-changing blogosphere, and remain true to your passion, your blog's success will only soar.
Start Making Money
Starting a blog can be an exciting way to share your thoughts and experiences and earn an income from anywhere in the world. Affiliate marketing is an effective way to monetize your blog. By partnering with businesses that offer relevant products or services to your readers, you can earn a commission through links placed within your content.
Display ads are another great method for making money from your blog. By signing up with an ad network, you can place advertisements on your website that generate revenue based on views and clicks from your readers. Additionally, you can create and promote your products or services, such as courses, guides, or merchandise, which can bring in additional income.
Lastly, brand partnerships can be highly profitable for successful bloggers. By collaborating with companies that align with your blog's niche, you can create sponsored content that benefits your audience and generates revenue. Overall, there are numerous opportunities for monetizing your blog and turning it into a thriving online business.
Sustainability and Growth
Sustainability and growth are vital aspects to consider when starting a blog. To achieve long-term success, being passionate about the chosen subject is essential, as this passion will drive consistent, engaging content that attracts readers.
Maintaining regular posting habits keeps readers interested and improves search engine rankings, which in turn brings more organic traffic to the blog. Furthermore, exploring various monetization methods, such as affiliate marketing, sponsored posts, or selling products and services, can diversify income streams and ensure financial sustainability.
Lastly, it is crucial to be adaptable and open to change. This may involve updating older content to keep it fresh, learning new skills, or focusing on emerging trends within the niche. Embracing these strategies ensures steady growth and a sustainable future for the blog.
Conclusion
A blog is a very good way of earning and sharing knowledge and experience. It is growing day by day. So if you are interested in earning online, sharing knowledge with the whole world then you have to start a blog.
If you keep in mind above all points and you do hard work then there is a very high chance that your blog will become a successful blog very soon. And for that, I wish you very good luck.